Rick Bell
 
On Thursday, 23 March 2023, the coalition of the United Nations of Rivers, Deltas & Estuaries organized an official side event for the 2023 UN Water Conference that had started that day in New York. In collaboration with nine organizations, including the AIANY's Planning and Urban Design Committee, the Consortium for Sustainable Urbanization and Columbia's Center for Buildings, Infrastructure and Public, a diverse group of speakers and visitors came together at the AIANY Chapter's Center for Architecture space on LaGuardia Place in New York.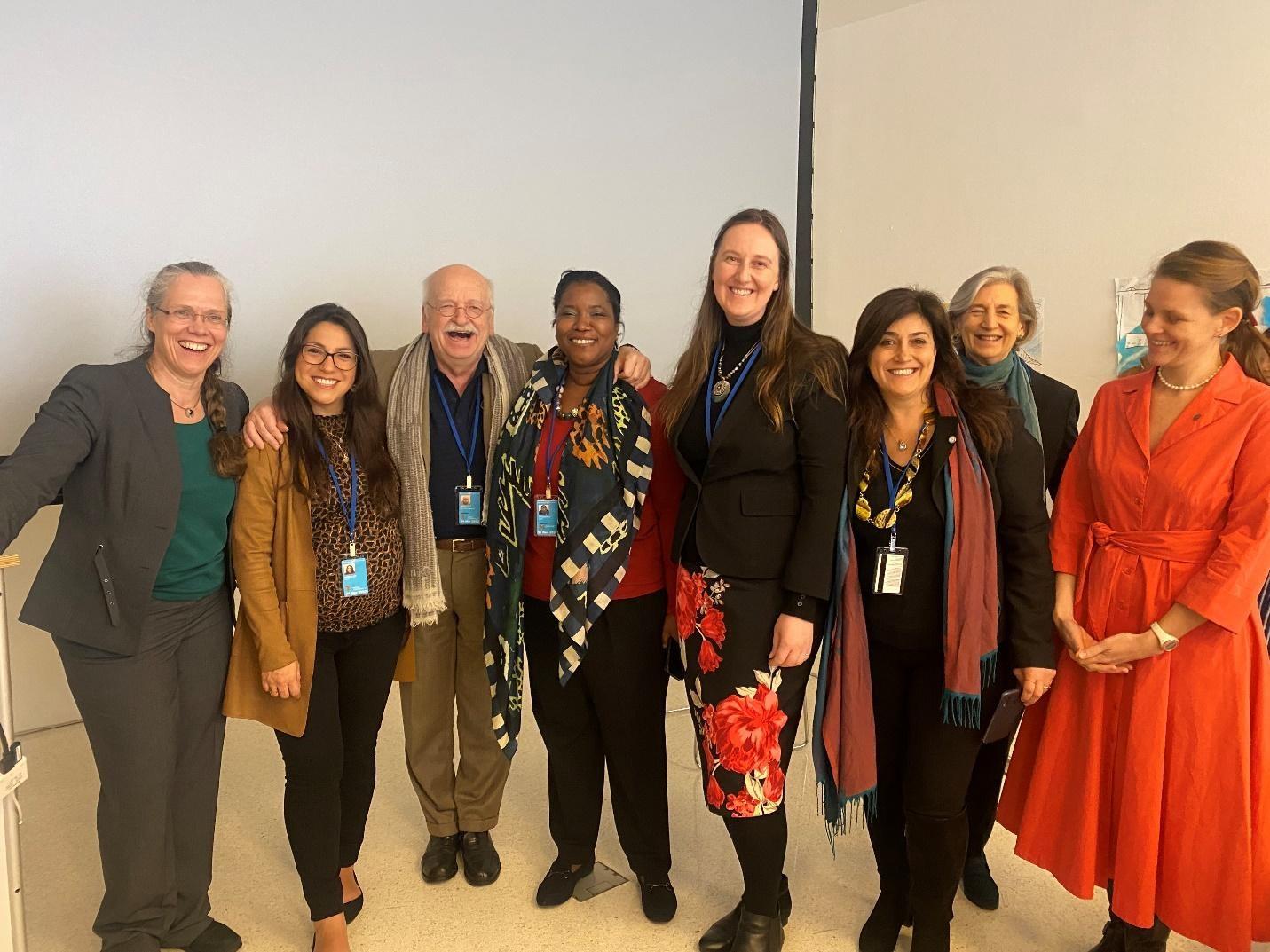 The program description distributed in advance spoke of how strategies and methodologies aimed at sustainable management of water and water ecosystems need to go beyond technical and economic driven approaches. In the run-up to the UN Water Conference and during the NY Water Week, the United Nations of Rivers, Deltas and Estuaries team gathered methodologies and insights that combine local stories with global narratives in a multiscale approach, enabling design-thinking and artistic interventions for the implementation of the Water Action Agenda. The meeting aims to share insights and gather support of policy-makers and international organizations for the implementation of a series of action-based initiatives. Together, the participants will set aims and objectives for the year to come, and formalize the commitments for the Water Action Agenda. The program was organized and moderated by Carola Hein, UNESCO Chair Water, Ports and Historic Cities and Professor of History of Architecture and Urban  Planning at TU Delft. Professor Hein is also the initiator of the Leiden-Delft-Erasmus Port Cities Futures program which employs interdisciplinary methods and long-term perspectives to understand and design political, economic, social and cultural dimensions of spatial use in port city regions. Discussions took place at the AIANY Chapter's Center for Architecture space on LaGuardia Place. 
Opening Remarks
Opening remarks about collaboration were made by Jessica Morris, co-chair of the AIA New York Chapter's Planning and Urban Design Committee and the host of the event at the AIANY's Center for Architecture. The Center for Architecture endeavors to be the most compelling, relevant and open place to learn about architecture and urbanism in New York City. Opened in 2003, it set a precedent as the first cultural institution within the AIA network of regional chapters. Focused on public outreach and education, this active venue welcomes architects, design professionals and the general public to engage through a diverse range of activities.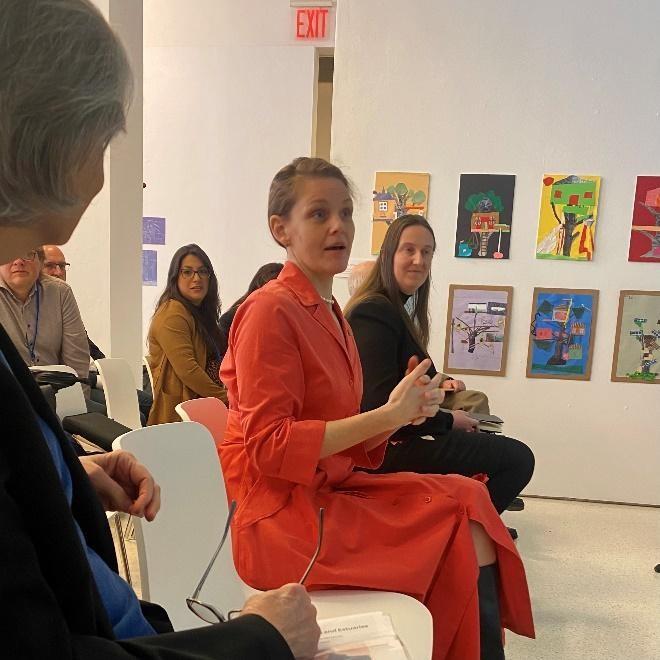 Carola Hein described the purpose and intent of the meeting, looking at a number of specific areas of intervention that together lead to a better understanding of the cohesive actions that we are looking for. 
Rick Bell, who represented the Consortium for Sustainable Urbanization, welcomed all present to New York and, holding up Ron Chernow's biography of Alexander Hamilton, briefly described the role of Hamilton and Aaron Burr in initiating the Manhattan Company water system of New York back in 1799. He spoke of those who had written about New York's harbor, quoting from Langston Hughes, who in his autobiography, The Big Sea (1940) wrote of his time sailing from New York to West Africa in the 1920s: "Melodramatic maybe, it seems to me now. But then it was like throwing a million bricks out of my heart when I threw the books into the water. I leaned over the rail of the S.S. Malone and threw the books as far as I could out into the sea – all the books I had had at Columbia and all the books I had lately bought to read." He thanked Jessica Morris for hosting the event and Carola Hein for organizing it. Carola then introduced the first speaker, Mr. Erik Orsenna.
Speakers
Mr. Erik Orsenna (pen name of Erik Arnoult) is President of Initiatives for the Future of Great Rivers (Initiatives pour l'Avenir des Grands Fleuves). "I used to teach at various universities and give lessons about water. Without water you cannot live" He said, but added that the given is "too abstract." He spoke of not considering water as a commodity, but thinking of rivers as living beings. He noted that his first impression of the room today was of everyone smiling, that meeting in a gallery with such wonderful drawings by kids leads to not only smiles but also color, adding "with smiles and color you feel better, you know it is possible". He said "Each river is different. You can't fight for diversity without taking into account the difference between rivers".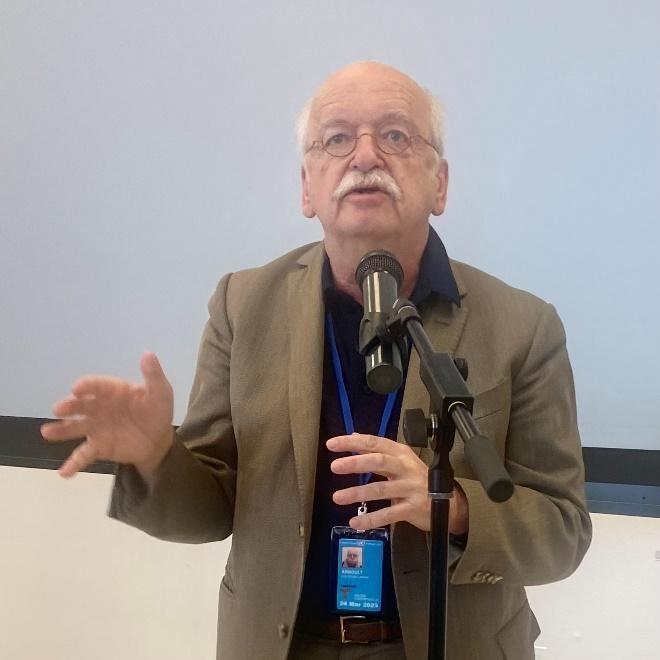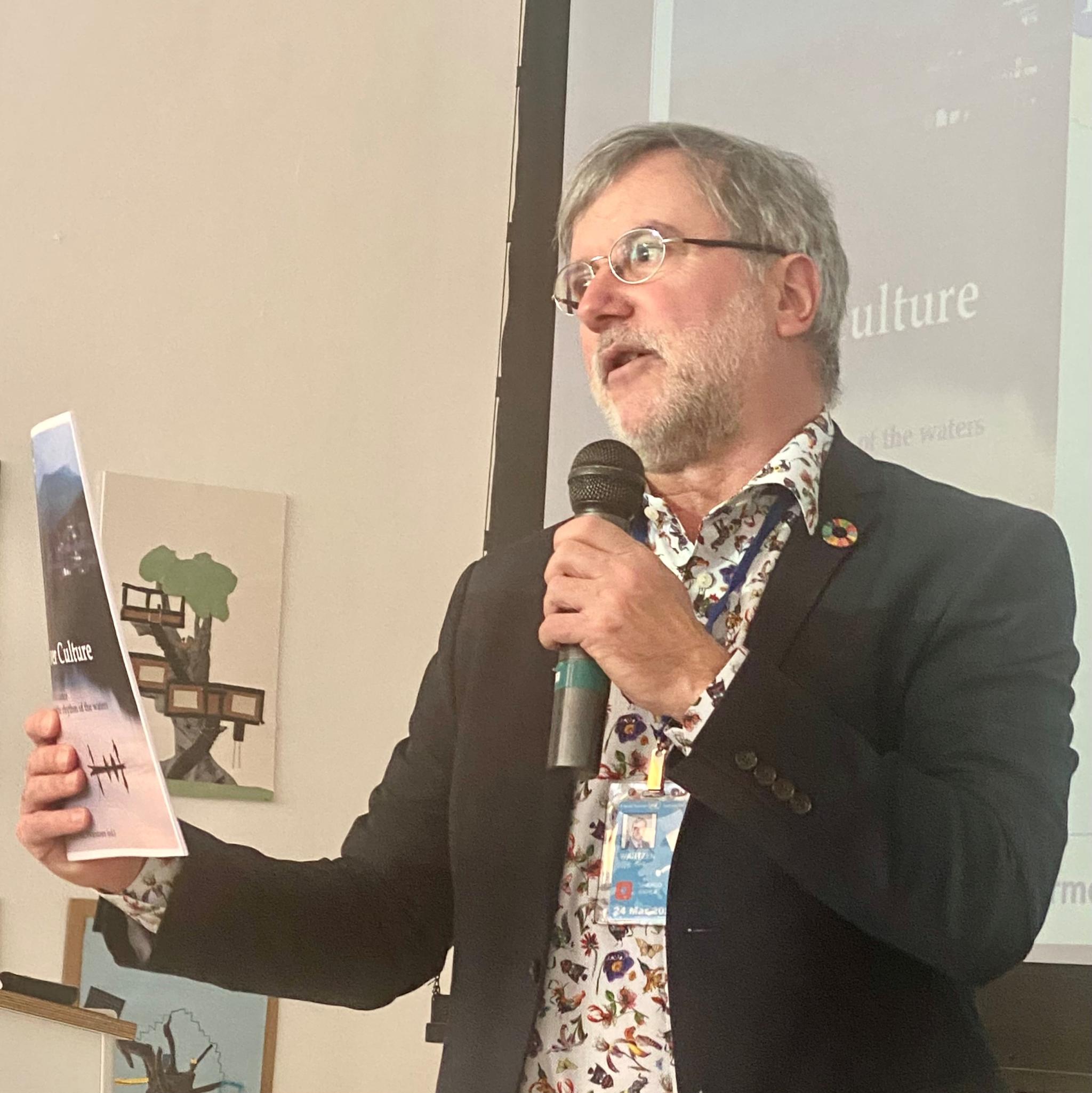 Mr. Karl M. Wantzen is professor of ecology at the University of Tours (France) and UNESCO Chair Fleuves et Patrimoine - River Culture. He works on a harmonization between human activities in river landscapes (riverscapes) and the diversities of their biological and cultural heritages. He spoke of river culture as representing a harmony between humans and rivers, "adapting human activities to the rhythm of the river" and "learning from the river to live with the river". He added, "I'm not nostalgic, but we can check what makeup of this tradition can inform modern water management". He described several examples of successful interventions, including the Manuelzão Project in Brazil where academics, social movements and government combined to stop the spread of water-borne diseases in the Das Velhas river basin. He added on that by describing the interactions between NGOs and industry that led to the lowering of the proposed height of the Allier Dam (in a tributary to the Loire river), adjacent to strategic salmon sites. A goal of the project was to restore river continuity to enable the return of migratory fish.
On his question "What is the level of wildness you can expect in a city?" Carola Hein replied that it is important to both protect nature and our cultural heritage, saying that to do both it is necessary to create a culture of collaboration. To do so, Wantzen described the necessity of building a broad integrative community across ages and across countries; providing open access to practices and methodologies and to data; co-implementing demonstration actions; experimenting with frameworks; co-developing didactic materials; and taking action in support of leading policy-making.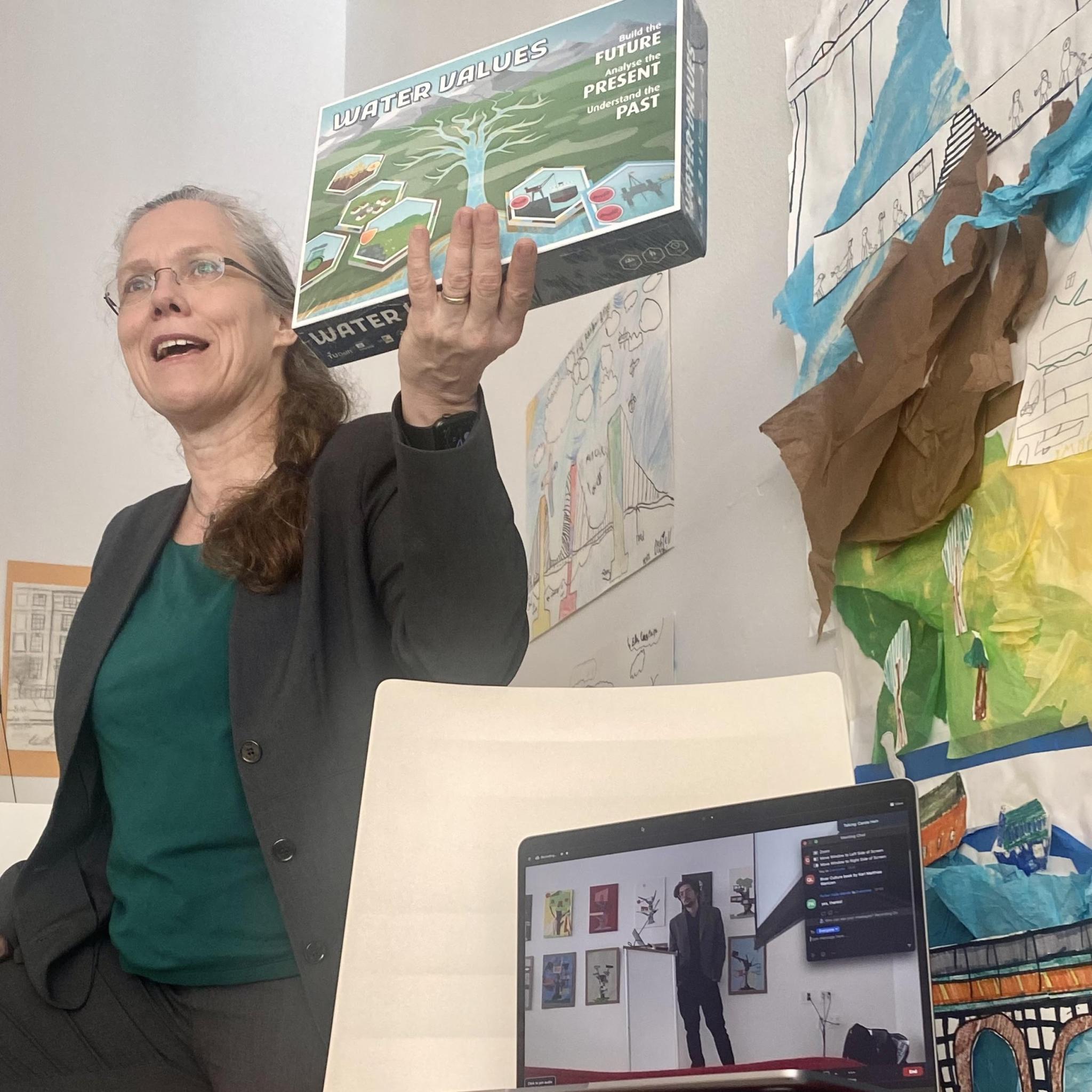 Continuing on to the rest of the panel, Ms. Bernadette Araba Adjei is the Director of the Legal and Monitoring Department of the Water Resources Commission of Ghana, where she has served since 2005 as Chief Legal Officer. She holds a PhD in Development Studies from the University of Ghana and is a lawyer with two decades of experience in environmental law and water governance. She has been involved in the development and administration of a number of laws and regulations in the water sector in Ghana. Dr. Adjei said: "Rivers provide, and I see two ways that they do so. Providing for people and their needs and providing for the environment and its needs". She concluded by saying that "to use rivers in a sustainable manner in Ghana, it is very important that in the decision-making that all citizens are represented, but also there is ultimately the need for enforcement of the decisions reached and the creation of a sense of ownership".
According to Ms. Miriam Haritz, "Humans are directly living on and next to rivers, and rivers are intrinsically linked to local history".  Dr Haritz is Deputy Director General at the German Federal Ministry for the Environment and has served as President of the International Commission for the Protection of the Rhine (ICPR), based in Koblenz, Germany. She spoke of the connection between spirituality and cultural heritage, saying "If we want to achieve the SDGs, we need decisive and coherent action". She noted that Sub-Saharan Africa is most vulnerable to climate change, as we have seen in the Niger Basin and Congo Basin. These large rivers are the only way to transport goods and products. Today the Niger Basin is threatened by pollution and needs nature-based solutions for sustainable development. Dr. Haritz concluded by saying "Now is our turn to implement the commitments of the Water Action Agenda. Let us cooperate to make this dream a reality". Carola Hein replied, "If there is one thing that speaks to generational dissonance, it is water".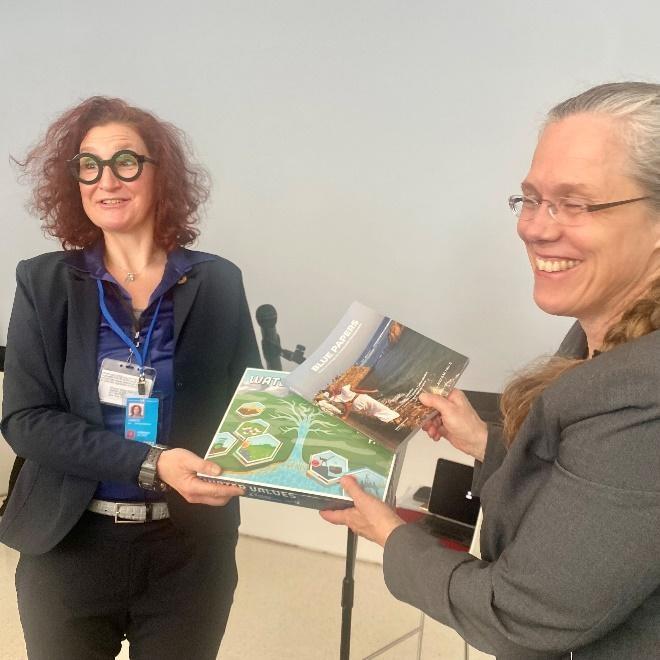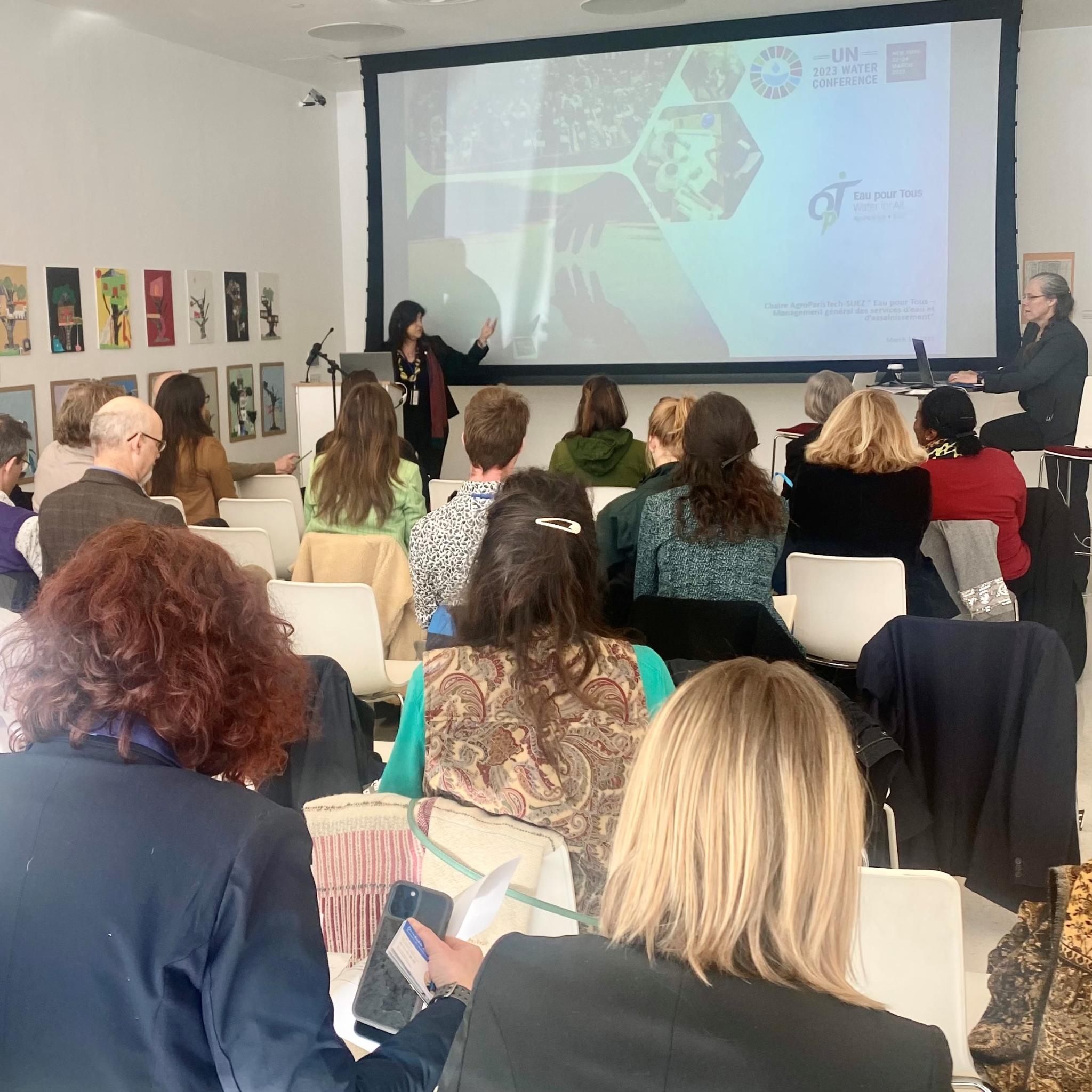 Ms. Lylian Coelho Ferreira is Development Director at AgroParis Tech-SUEZ and "Water For All" Chair. She is co-founder of Womenvai, an NGO concentrating on concrete actions for the planet utilizing Artificial Intelligence and new technologies to raise voices for girls and women around the world. She said: "As a woman, as an engineer, I travel around the world to fight for water" adding "without water, you have no humanity". She spoke of the Rio Tamanduatei in São Paulo which has not been safe for swimming since 1970. The Tamanduatei River ('the Great Anteater') is a tributary of the Tietê River, and is now benefiting from a new government and a new strategy that emphasizes the importance of rivers. Ms. Coelho spoke of the important role that women play in rural areas, and particularly in agriculture, promoting access to essential services, saying "there is no sustainable development without women".  She concluded by saying, "water is life, but sanitation is dignity" concluding with "water has no country" and "sanitation has no country".
Ms. Ruth Richardson is Secretary General of the International Network of Liberal Women (INLW) and leads policy at the Rhineland Water Board (Hoogheemraadschap van Rijnland), based in Leiden (the Netherlands). She said "we want clean water for our communities in Leiden and in areas around Leiden". During the pandemic, samples were taken from all Dutch wastewater plants and used for predicting the locations of possible outbreaks. She talked about the value of data and the need for more knowledge about the benefits of the data being received by sampling in our sewer systems, saying "wastewater tells us how people live". Ms. Richardson asked "With the pandemic essentially over, do we continue sampling? Is misuse of these data a possibility? And, if so, how do we prevent such misuse?"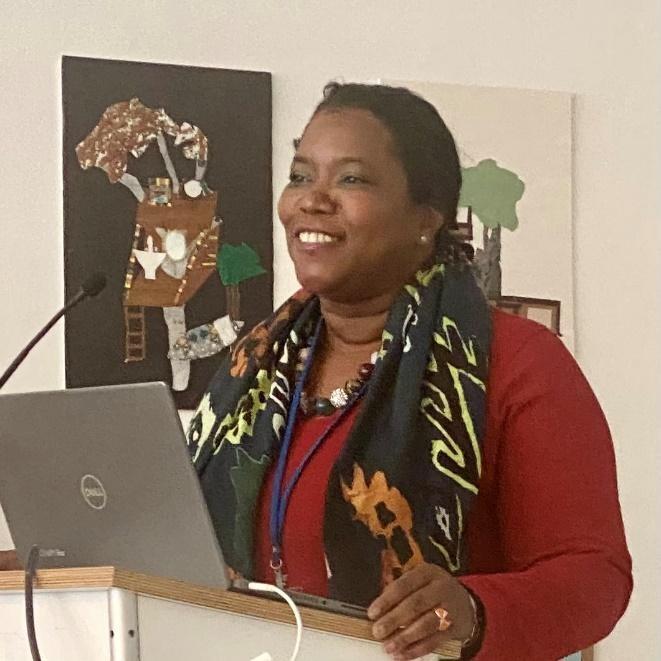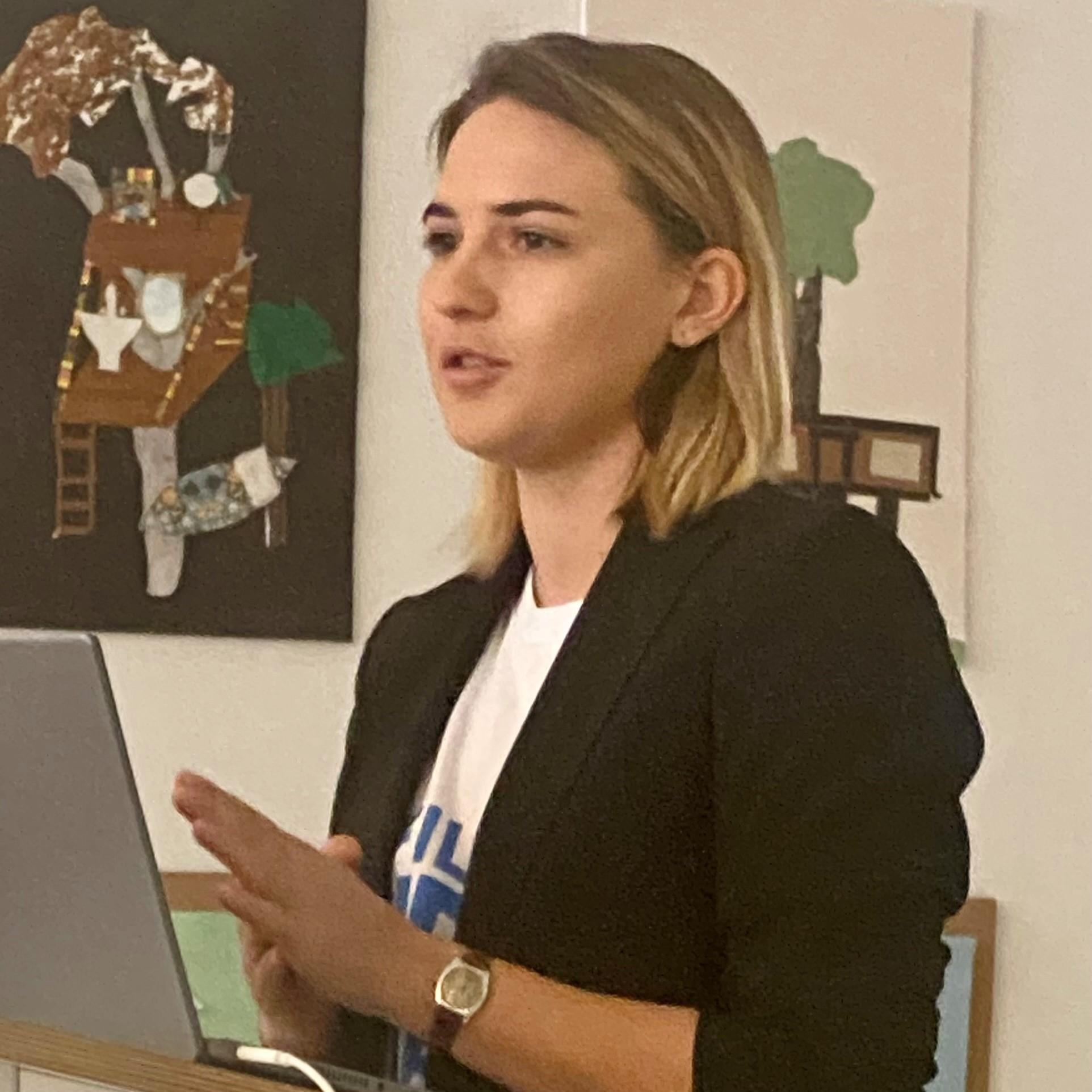 Ms. Isabel Wallnoefer is a Program Officer on the Water and Land Management Team at the International Union for Nature (IUCN) based in Gland, Switzerland. She holds a Master's degree in Limnology and Wetland Management from TU Delft. She noted that we are losing wetlands three times faster than the rate of losing forests. As we think about the past, the present, and the future, she noted that "we are losing the present". Ms. Wallnoefer noted that during the pandemic there was widespread pessimism, with fears of population decline coupled with concerns about climate change. She said that "we must take these facts and move them into a different context pertaining to what we need to do and identifying what action is needed". She added "we need conservation" and that "we need restoration". She called for an inclusive governance process involving youth and referenced the "Fill Up Your Glass" campaign which is calling for the provision of 30%  youth participation by 2030. She stated that "there are great initiatives out there, but we need to connect people within a bigger framework". At the conference so far, Ms. Wallnoefer noted that she has not heard a lot about biodiversity. Instead, at the plenaries, she said that she has heard about hydropower, and about pollution and green infrastructure. She concluded by saying that "we need to highlight the 'nature' in nature-based solutions".
Mr. Eddy Moors is the Rector at the IHE Delft Institute for Water Education and a Professor of Water and Climate at Vrije Universiteit Amsterdam (VU Amsterdam) from which he holds a doctorate in hydrology and water resources science. He spoke about capacity development and cultural heritage, and the programming earlier this week that created a virtual 'marathon' Global Accelerator Network for SDG6 from South America and Australia through the Pacific Islands to East Asia, Central Asia, Europe and Africa before returning to New York. The discussions and case studies all had the goal of sharing thoughts on how we can accelerate the implementation of SDG6.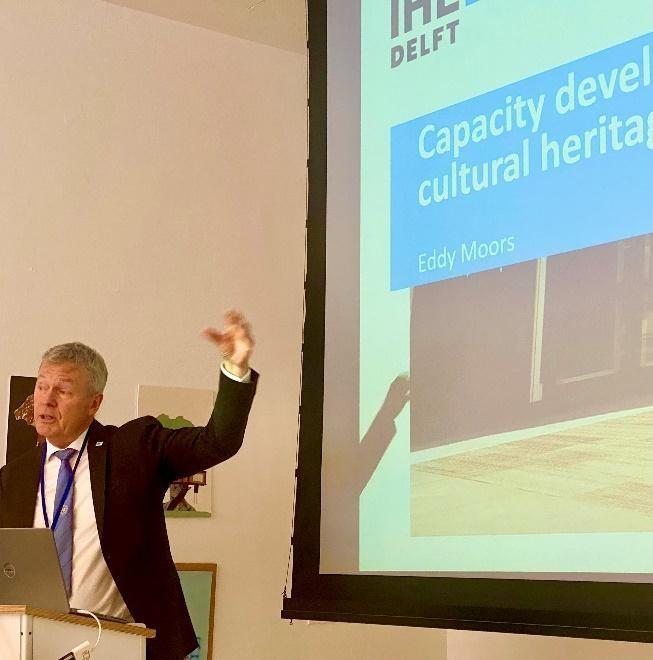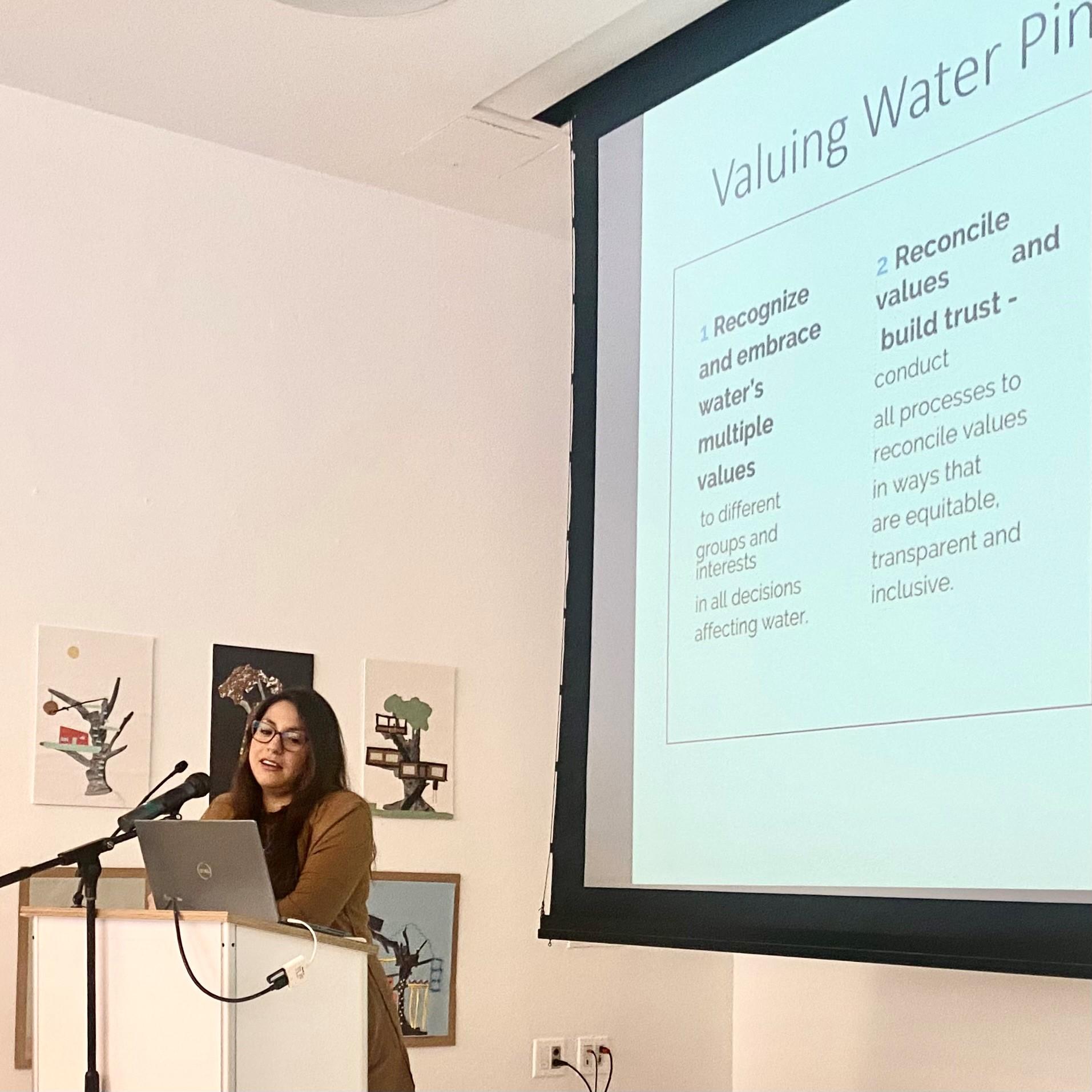 Ms. Diana Morales Irato is a water/environmental economist at Deltares based in Delft. She holds a Master's degree in environmental science conferred by Wageningen University and is the author of Mitigation Scenarios in Peru – 2050: Towards a Low Emission Development, a part of the Peruvian government's Climate Change Planning Project (PlanCC). She spoke of the initial conception that the 'Valuing Water Principles' being discussed were 'all very nice' including: recognizing and embracing water's multiple values; protecting the sources; educating to empower; and investing and innovating. But, she noted, they do not address the question of "what do I really need to do – what is the necessary innovation?". Describing the current flooding in Perú, she asked, "what do these values mean in practice?". She added that the first two points, "recognizing and embracing water's multiple values to different groups and interests in all decisions affecting water" and "protecting the sources by conducting all processes to reconcile values in ways that are equitable, transparent and inclusive", can, when expanded, become quite useful and informative. She stated that "a water-sensitive city combines physical infrastructure with use of three pillars of action leading to solutions" explaining that "cities are water-sensitive communities and networks". Ms. Morales concluded by noting that "inclusive and sustainable water management in cities benefits from what we have learned from the experiences that we all can share".
Mr. Nanco Dolman is lead expert in Water Resilient Cities at Deltares. He holds a Master's degree in Civil Engineering from TU Delft and a Bachelor's in Landscape Architecture from the Amsterdam Academy of Architecture. Since 2015, Nanco has served as a UN-ISDR Resilient Cities advocate. He spoke of bridging water resilient design and engineering and making cities less vulnerable to water extremes, urban heat, degrading environments, and on-going population growth. He also discussed the EU-funded Interreg CATCH research project which focuses on applying the Water Sensitive City framework for climate adaptation. Connecting to Carola Hein's remark on the importance of integrating natural and cultural heritage in one narrative, he spoke about the Green-Blue Infrastructure plans in Zwolle (the Netherlands). The Green-Blue Network in the city provides room for "urban sponges" to combat heat stress, as Mr. Dolman also elaborates in his article in the Blue Papers.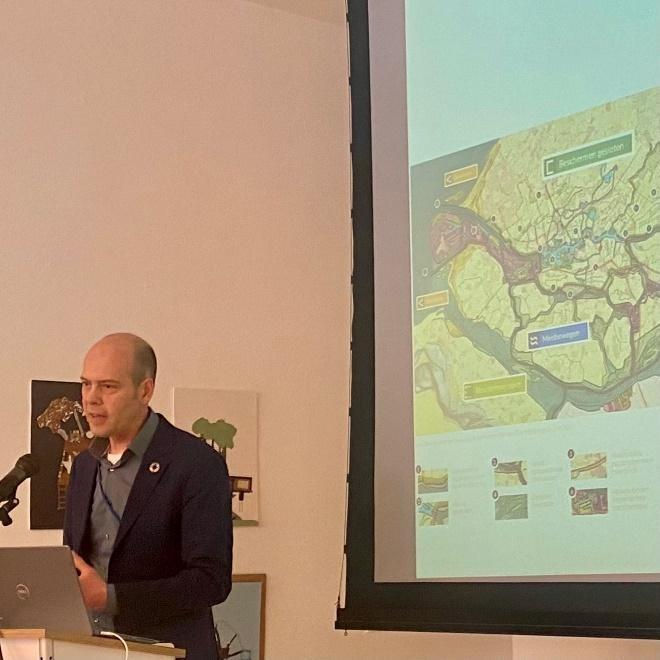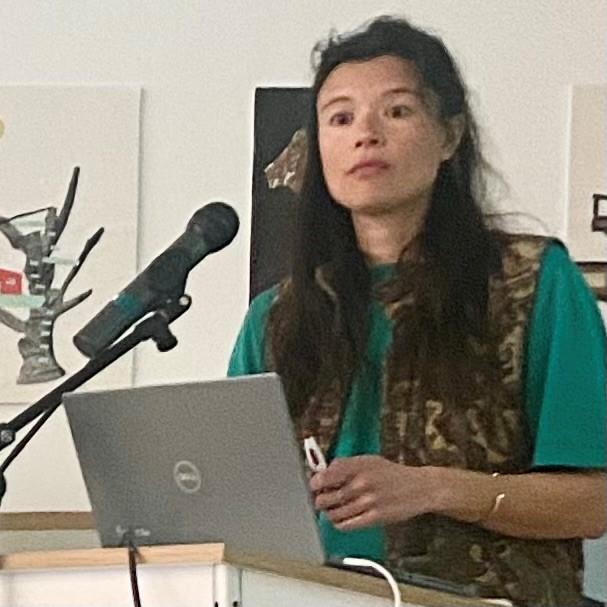 Ms. Li An Phoa was the last speaker of  the program. She is the initiator of Drinkable Rivers (CC) which serves as an indicator for healthy ways of living. As part of her commitment to Drinkable Rivers, Ms. Phoa is walking rivers from source-to-sea, starting with the river Maas, near where she was born, so as to engage as many people as possible along the Maas-Meuse riverbanks, from children to engineers and bankers. She is a founder and teacher at Spring College in The Netherlands and a founder of BEAR (Beautiful Earth Action & Research). Her concluding comment was that "water is not just what you see, it's a way of life". Jessica Morris noted that there was a direct correlation with the SDGs.
Q&A and Respondents
In response to a question from Jessica Morris about how quantification of the benefits can serve as a key to making things happen, Diana Morales said that as an economist she knows "how difficult it is with limited time and limited resources to get the data needed for such quantification of co-benefits." Other questions were posed by Maia Brons, a PhD researcher focusing on water, climate change, mobility and justice at the University of Brighton, who emphasized the importance of dissensus. She wondered if successful governing always needs to be based on consensus, and to what extent consensus leads to covering up the variety of voices in water discourses.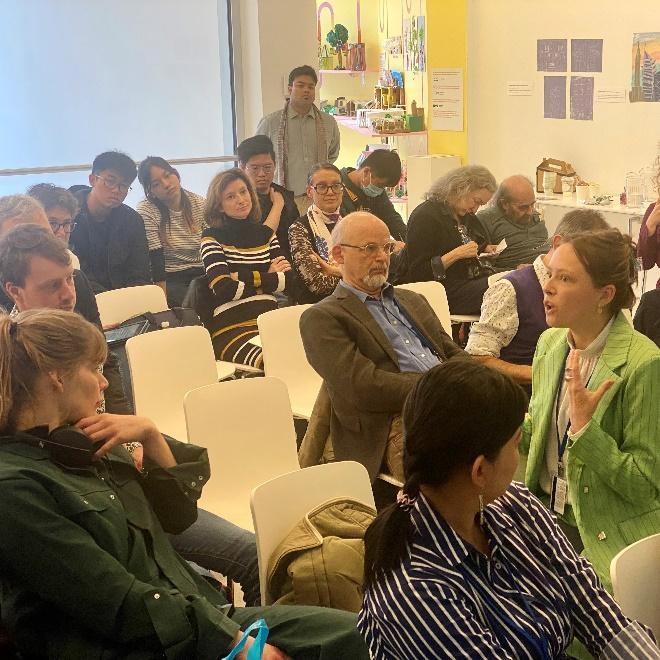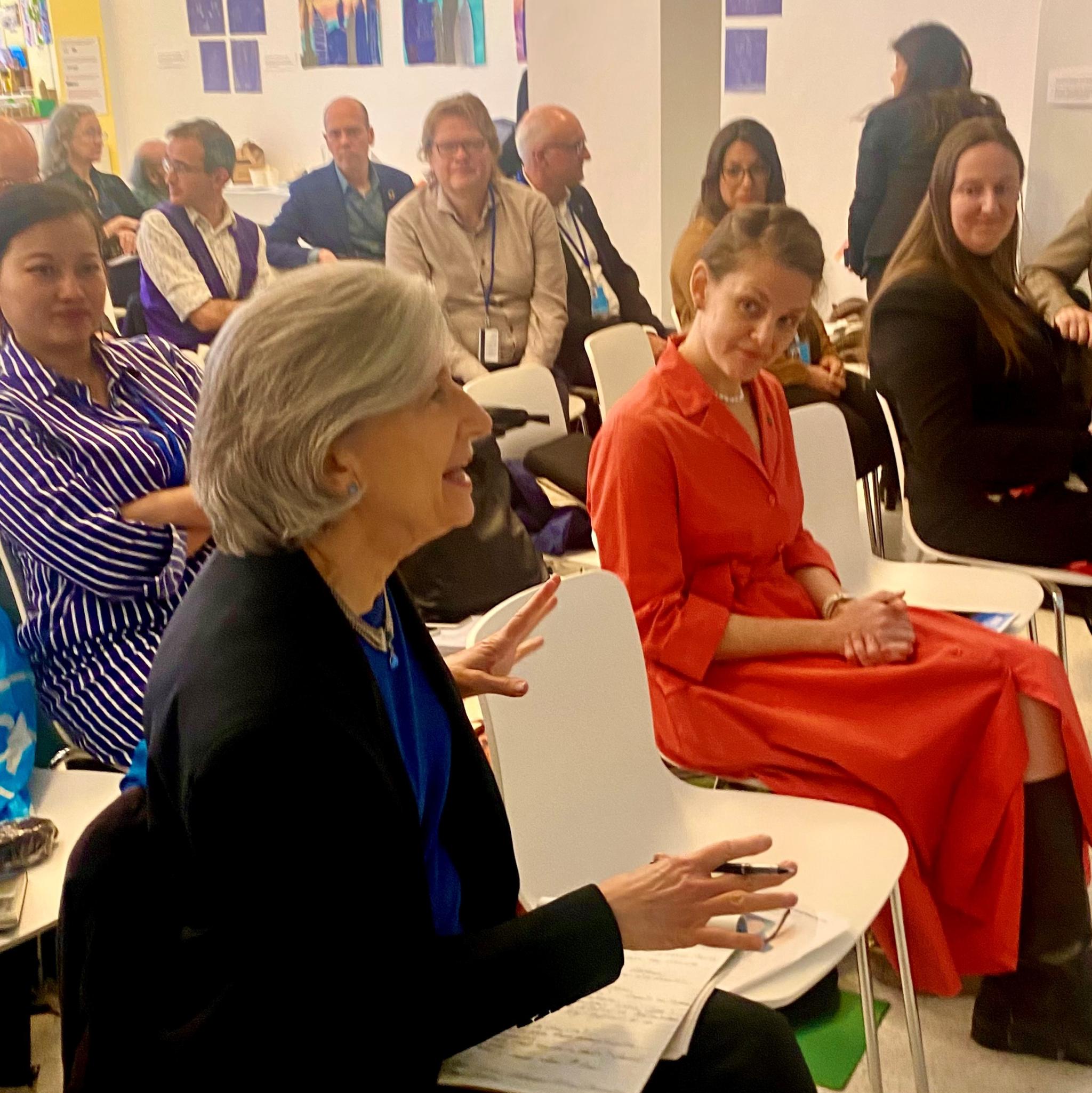 Concluding remarks were offered by Bonnie Harken, founder and principal at Nautilus International Development Consulting, which is at the forefront of developing urban strategies for climate change challenges around the world, particularly in relation to sustainable waterfront revitalization, and Jessica Morris on behalf of AIANY. The network will continue to work together on capacity, education, This is illustrated by the commitments the network drafted at the end of the conference, which will be shared in the future. In conclusion, Carola Hein thanked the speakers, respondents and participants.
Acknowledgements
This blog has been written in the context of discussions in the LDE PortCityFutures research community. It reflects the evolving thoughts of the authors and expresses the discussions between researchers on the socio-economic, spatial and cultural questions surrounding port city relationships. Special thanks for comments and reviews to Carola Hein, Hilde Sennema, Vincent Baptist and Foteini Tsigoni.