Saskia Tideman
As in many port-cities, the history of Hull, a medium-sized port-city in East Riding Yorkshire, England, is that of an endless struggle to keep up with industrial ambitions which came to a halt in the mid 1970s. Containerisation and roll-on-roll-off facilities made half of Hull's docking facilities obsolete. At the turn of the century, Hull needed a new identity as a partially post-industrial port-city, and its disused docks needed a new purpose. Given the built environment signposts the societal values of its time (Mazumdar and Mazumdar, 1994), the study of Hull's reuse of its redundant docks provides insight into its maritime industrial past, and to what extent it was instrumentalised in the creation of a 21st-century port-city urban identity.
Today, 5 of 6 historic docks, once fundamental to Hull's maritime power, facilitate an increasingly service-based economy, with previously industrial sites giving way to a shopping mall, residential quarters and a marina. The model of post-industrial dock redevelopment presents a romanticized view of Hull's oldest maritime heritage sites, often using the sparse remains of the industry to perpetuate an archetypal image of the historic industries and waterfront, while minimising references to the more recent industrial and maritime activities. The maritime theme is "symbolically represented in the built environment through arts, street names, and parks, yet absent from more substantial forms of recognition" (Avni and Teschner, 2019). The curation of this simplified narrative, appealing as it may be to a broad audience, leads to the loss of diversity in heritage sites as any associations with controversial pasts are erased.
A telling example of the down sides of this approach lies with the fishing industry and St Andrews' dock, which is rumoured to have been home to the UK's biggest trawler fleet. (St. Andrew's Dock Heritage Park Action Group n.d.) Having hosted 50,000 workers in 1954, St Andrew's was home to a thriving community and contributed significantly to Hull's economy and growth (Gooding 2013). However, innovation in the form of freezer trawlers and the loss of access to Iceland's cod-rich waters fatally hurt Hull's fishing industry and rendered St Andrew's redundant. The dock was never redeveloped and today, the vandalised remains of the dock - a metaphorical graveyard for the fishing industry - are subject to trespassing, vandalism and arson (Historic England 2019).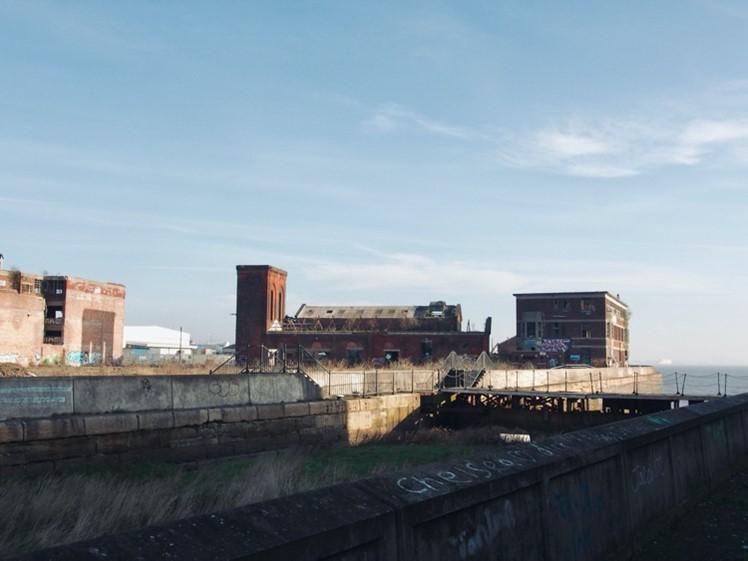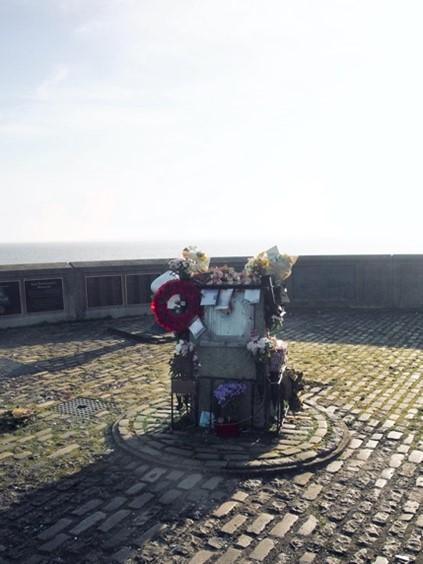 Right : Vandalised condition of St Andrew's remaining Lord Line building (left), Grade II listed Pump House (right) and lock gate (front), original photo by author, 2020.
Left : Memorial to fishermen lost at sea on St Andrew's Bullnose, original photo by author, 2020.
While factors of ownership and poor urban context hinder St Andrew's redevelopment prospects, the root cause of inactivity resides in the contrasting views on the site's role in place-memory (Atkinson, Cooke and Spooner 2002).  The study of the site's history reveals that the heritage that attracts investors differs from the heritage revered by local communities. Whereas private investors value a romanticised and commercially attractive curation of the past, local and often disenfranchised stakeholders desire a historically faithful and inclusive redevelopment model which honours the lives lost at sea. Indeed, St Andrew's Docks was a location of collective memory and mourning as an estimated 6,000 Hullensian men died at sea, leaving grieving communities onshore (Kitching 2019).
In contrast to St Andrew's situation, Hull's nomination as 2017 UK City of Culture fuelled the port city's rebranding attempts as it was given an unprecedented opportunity to re-present itself in a new light, shedding its fishy overalls for an alluring cultural program. The City of Culture program yielded £300m in tourism revenue for the year (Serota 2019). Keen to establish itself as a national tourism destination, Hull begun the Yorkshire Maritime City masterplan. Due for completion in 2022, the multi-million-pound heritage regeneration project involves the refurbishment and preservation of four historic maritime sites and two historic ships ("Hull Yorkshire's Maritime City Project" n.d.). However, in its effort to capitalise on maritime heritage as a marketable product, the masterplan's cultural redevelopment strategy presents the same romanticised bias towards old maritime heritage (Day and Lunn 2003). Kisiel (2019) writes that in the European Capital of Culture framework the "industrial past is not so much silenced but is part of the narrative of rise and fall of the industry which is replaced by the service economy." Indeed, in Hull the more recent ex-industrial sites – powerhouses of maritime power – are omitted from the masterplan and left to deteriorate further. The only reference made to the fishing past lies with the refurbishment of the Arctic Corsair, a trawler, leaving St Andrews' Dock to deteriorate further.

Location of the intervention sites of the Yorkshire Maritime City masterplan which are all located in the vicinity of the historic centre rather than along the waterfront, reproduction drawing by author, 2020. [reproduced with GIS Data provided by OS Meridian 2, n.d.]
The price of this lack of consensus between deep-seated incompatible mindsets is heavy. Hull's smoothing of its heritage landscape is turning its waterfront into a standardised landscape. This erasure of sites that bear testimony to valued pasts leads to the loss of often-unrecorded memories of an aging population. In time, this excludes local communities which much contributed to Hull's recent history, such as St Andrew's fishing community. Left unchecked, this causes urban amnesia and challenges the perpetuation of living memory (Avni and Teschner 2019). At the root of these diverging mindsets, which lead to the contestation of dockland heritage value, is the lack of consensus of what Hull's urban identity should be. Whereas conservation and heritagisation are inherently selective processes and therefore open to biases (Tunbridge, 1984), the decision-making process should not enable the disappearances of key parts of Hull's history. The challenge therefore lies in combining all interests toward a common development goal and nurturing a mindset able to reconcile diverging readings of what Hull's future should be: a living memorial or a tourism destination.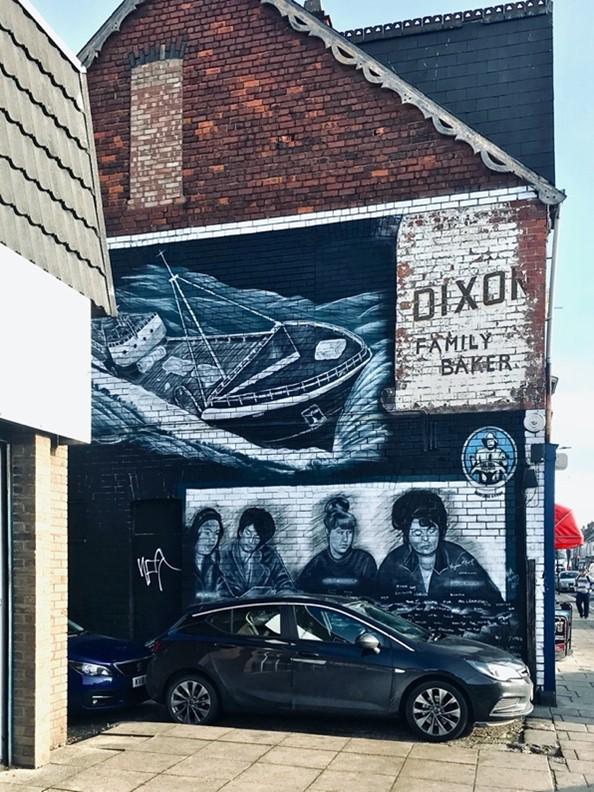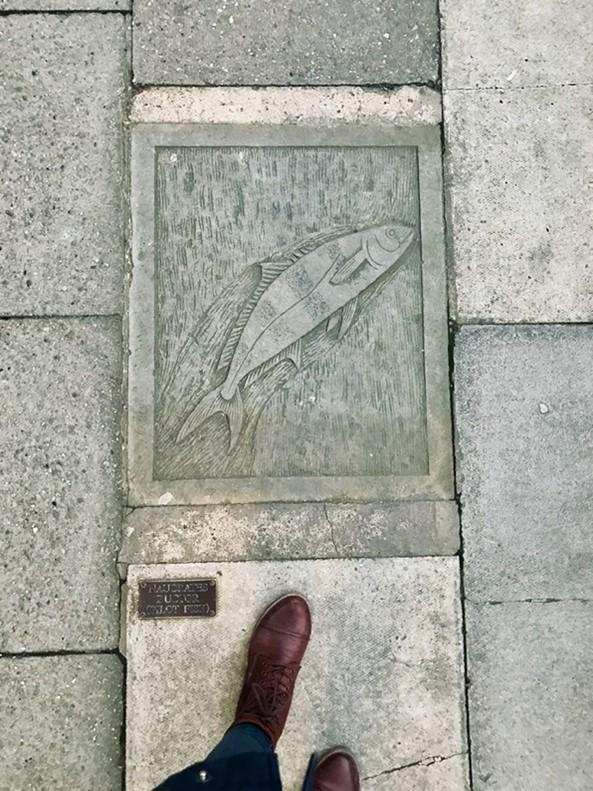 Right: Mural depicting a trawler and the 'headscarf wives' who fought for safer fishing conditions in Hessle road, home to the ex-fishing community and the Hull Fishing Heritage Centre, original photo by author, 2020.
Left: Sculpted paving on Hull's fish trail in the city centre, original photo by author, 2020.
This challenge requires a multi-disciplinary involvement from policy makers, researchers and designers alike. Partnerships between private investors, local stakeholders, and the city council with its ability to incentivize and coordinate urban change is required to nurture a new paradigm, whereby the communal value of heritage is acknowledged separately from its tourism branding value. A new model should therefore be able to portray a city's past in an inclusive and plural fashion, enabling the safeguarding maritime industrial heritage and plural stakeholder interests. New forms of engagement will enable the sketching of a new, inclusive vision of 21st-century Hull, corresponding to a maritime mindset that values a multiplicity of pasts in future-making. Such a mindset will be instrumental for Hull to claim an identity of its own, among a maritime landscape populated by port-cities looking and feeling increasingly similar.
Acknowledgement
This blog was written in the context of a TU Delft Master's research project on uncovering the mindsets influencing the curation of maritime heritage to understand Hull's aspirational port-city identity/ies. Furthermore, it was reviewed in discussions in the LDE PortCityFutures team. It reflects evolving thoughts among group members on the socio-spatial and cultural questions surrounding port city relationships. Special thanks for comments and reviews to Thomas van den Brink, Asma Mehan and Paul van de Laar.
 
References
Atkinson, David, Steven Cooke and Derek Spooner. "Tales from the Riverbank: Place-Marketing and Maritime Heritages," International Journal of Heritage Studies 8, no. 1 (2002): 25-40.
Avni, Nufar, and Na'ama Teschner. "Urban Waterfronts: Contemporary Streams of Planning Conflicts". Journal of Planning Literature 34, no. 4 (2019): 408-420. doi:10.1177/0885412219850891.
Day, Ann, and Ken Lunn. "British Maritime Heritage: Carried Along by the Currents?". International Journal of Heritage Studies 9, no. 4 (2003): 289-305. doi:10.1080/1352725022000155045.-
Gooding, Chris. 2013. "Heritage Dock." http://www.hullnow.co.uk/concepts/heritage-dock. (accessed April 4, 2020).
Historic England "Heritage at Risk Register 2019 - North East & Yorkshire". 2019. historicengland.org.uk. https:// historicengland.org.uk/images-books/publications/har-2019-registers/. (accessed April 4, 2020).
"Hull Yorkshire's Maritime City Project." n.d. Hull Culture and Leisure. https://www.hcandl.co.uk/museums-and-galleries/hull-maritime-museum/hull-yorkshires-maritime-city-project. (accessed April 4, 2020).
Kisiel, Piotr. "Unwanted Inheritance? Industrial Past as The EU Heritage." International Journal of Heritage Studies (2019): 1-15. doi:10.1080/13527258.2019.1678053.
Kitching, Sophie. "The moving moment Hull remembers 6,000 trawlermen lost at sea." Hull Daily Mail. (2019). https://www.hulldailymail.co.uk/news/hull-east-yorkshire-news/moving-moment-hull-remembers-6000-2448450. (accessed April 4, 2020).
Mazumdar, Sanjoy and Shampa Mazumdar. "Societal Values and Architecture: A Socio-Physical Model of the Interrelationships," Journal of Architectural and Planning Research 11, no.1 (1994): 66-90.
Serota, Nicholas. "Why the arts can lead the revival of Britain's towns." The Guardian, June 16, 2019. https://www. theguardian.com/commentisfree/2019/aug/26/art-revive-britain-towns-hull-margate-creative-high-streets-nicholas-serota. (accessed April 4, 2020).
St. Andrew's Dock Heritage Park Action Group STAND. "The Birth Of STAND". n.d. hullfishingheritage.org.uk. https://www.hullfishingheritage.org.uk/about-us/. (accessed April 4, 2020).
Tunbridge, J. "Whose Heritage to Conserve? Cross‐Cultural Reflections on Political Dominance and Urban Heritage Conservation." Canadian Geographer 28 (1984): 171-180.