Barbara Waelkens
In the free online course (Re)Imagining Port Cities: Understanding Space, Society and Culture, learners make a portfolio addressing the spaces, stakeholders, transitions, values, and challenges of a port city territory they choose. We challenged the learners to reflect on their learning in a portfolio and invited them to present their findings in a blog. Over the coming months, we will be posting some of the results. This week, learner Barbara Waelkens wonders how Port Everglades in South Florida can rise to the challenge of climate change.
Just north of a 60-acre mangrove easement and east of the Fort Lauderdale international airport lies Port Everglades. The port is a self-supporting Enterprise Fund, independent from local taxes but associated with the Broward County government (Port Everglades 2018). It is joined to Fort Lauderdale by multiple waterways, making it the "Venice of America". To experience the city, you need a friend with a boat, or you take the water taxi and go bar hopping along the multiple canals, while admiring the elegant condominiums and lavish waterfront villas of the rich and famous. A boastful 42,000 yachts and boats share the waters of the Intercoastal Waterway with the cruise ships, oil tankers and cargo ships that supply the region.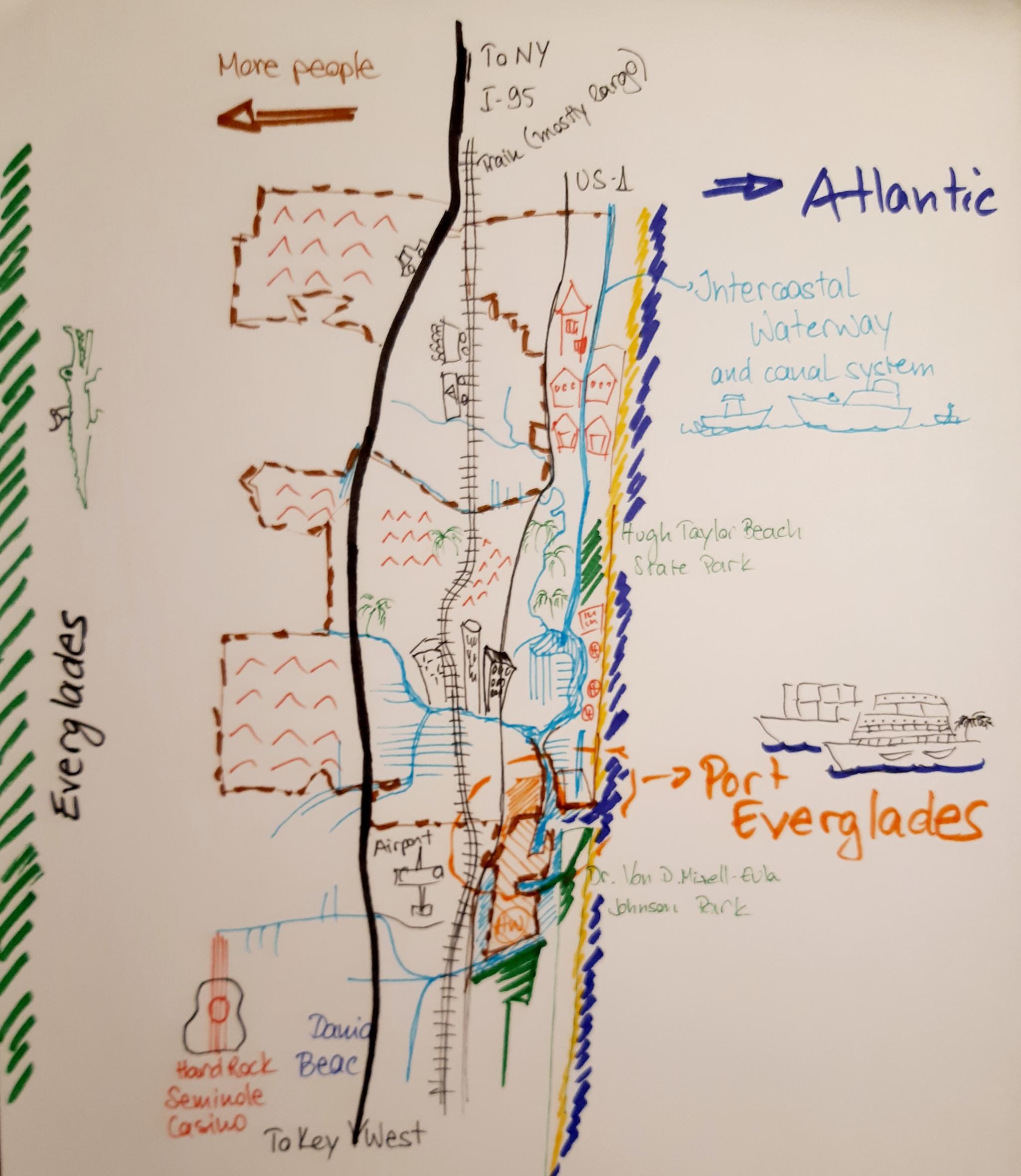 Fort Lauderdale started out as a plantation on the New River (New River Map 1788). The plantation was established by Surles and Frankee Lewis, British settlers from the Bahamas who raised oranges, lemons, limes, coconuts and guava (Turnbell 2006). Its first significant connection to the outside world was the Florida East Coast Railway between the Keys and Jacksonville, built in the late 19th century. Port Everglades was inaugurated in 1928, after the deepening of Lake Mabel and blasting open its access to the ocean, forever changing the sweetwater wetlands into saltwater marshes. 
After a rocky start into the Great Depression, oil trade was established in the mid 1930s, expanding to the cargo and cruise industry in the 1950s and 60s. Whereas Port Everglades was first controlled by the State and managed by municipalities, a frivolous spending scandal in the 1980s resulted in the transition from state charter to an independent county company, focused today on growth and sustainability. 
The city grew with the port and Fort Lauderdale developed from a small trading post to a high-end  vacation and retirement destination. Urbanization meant winning more land, building canals, and  draining surrounding wetlands. Early uncontrolled drainage resulted in water depletion and saltwater intrusion to the local Biscayne aquifer (Anderson, 2000). Before 1946 the Everglades would virtually go dry before the end of the dry season, resulting in salt water intrusion and significantly affecting municipal supply wells. The South Florida Water Management District was established to mitigate this depletion, developing a systematic drainage control system and improving water management (McPherson et al, 1976).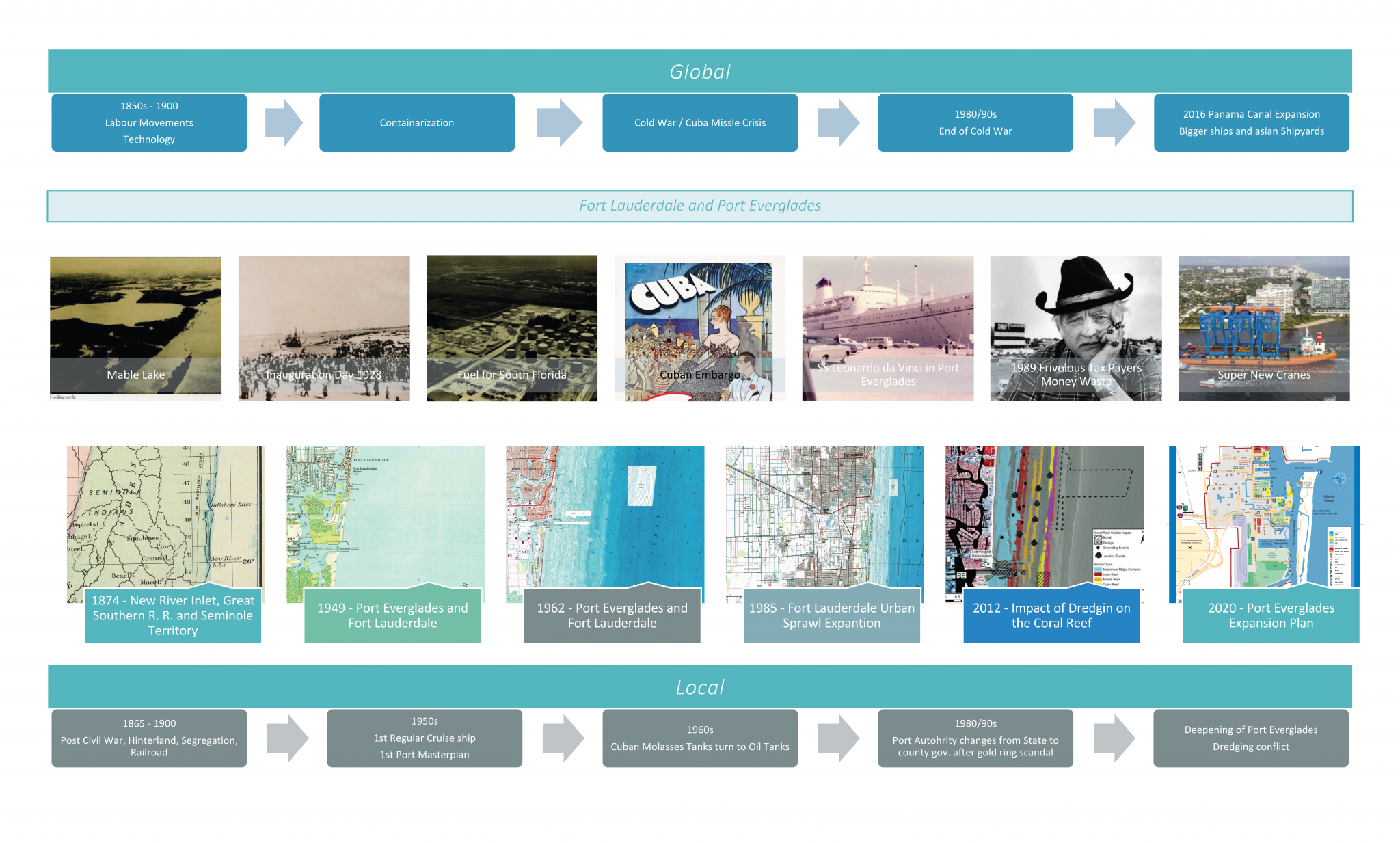 Other factors affected the livability of the area as well. The 1960 movie "Where the boys are" (with a remake in 1984) turned Fort Lauderdale into a spring break mecca for college students. In 1985, apparently 350.000 spring breakers came to the city. This resulted in the mayor going on "Good Morning America" informing "Spring Break-ers" they were no longer welcome. Negative effects to underwater biodiversity were acknowledged in the 1970s, when the Manatee protection act was enforced, turning the entire state of Florida into a Manatee sanctuary.[4]. Catastrophic weather events also left their mark on the region. The destruction left by Hurricane Andrew in 1992 shook South Florida authorities into action. A new building code was approved ensuring that structures better withstand high wind velocities. New laws required relevant infrastructure to be equipped  with generators. Residents started taking home readiness much more seriously. The storm also professionalized emergency response (Alvarez & Santora 2017).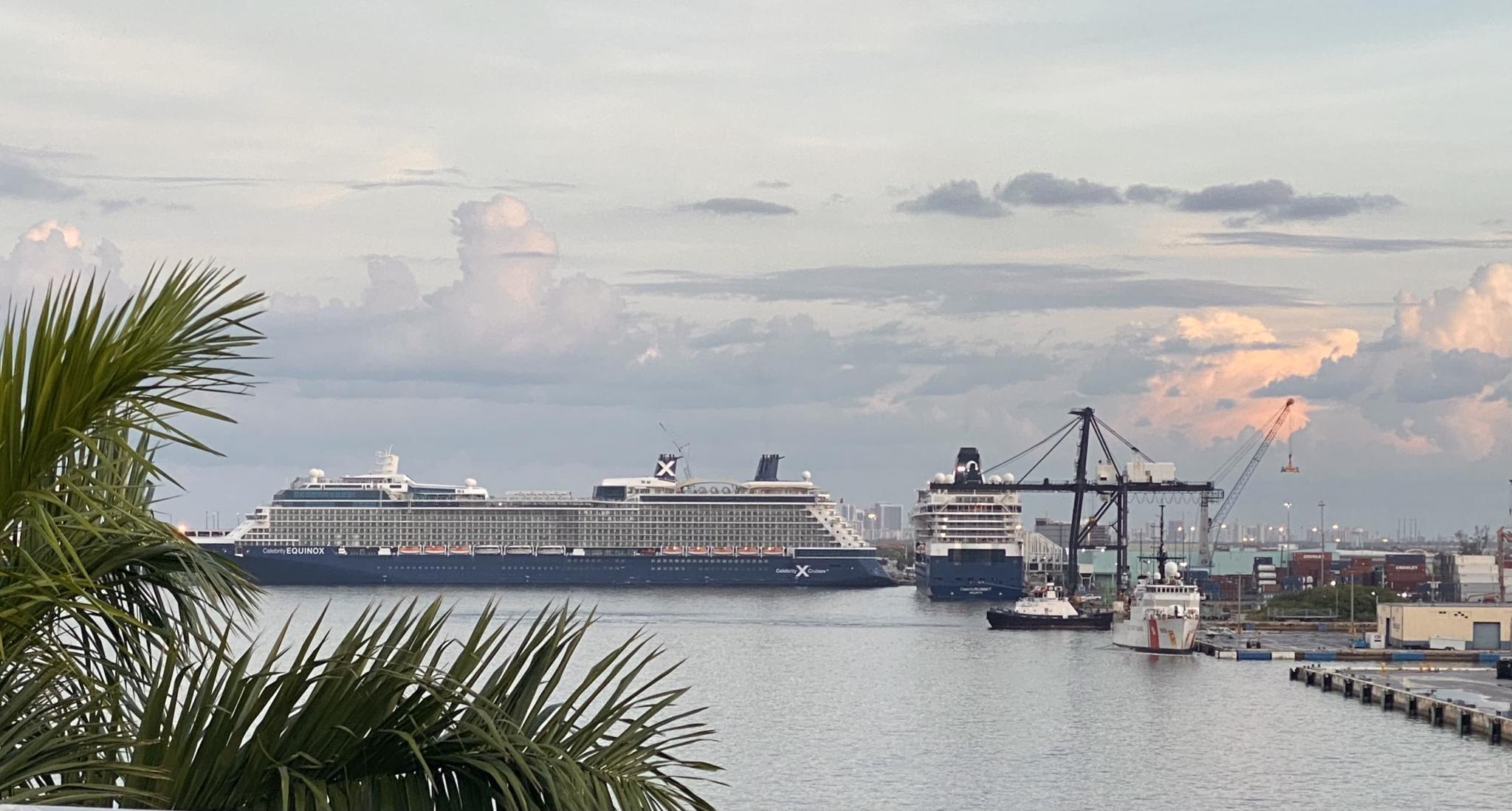 Port Everglades is now the third largest cruise port in the world and competes with the neighboring Port of Miami and Port Canaveral for spot number one. Over 100 million tourists come to south Florida every year to enjoy the fine weather, sandy beaches, and luxury getaways. The port also facilitates logistics to the local population, allowing south Floridian's access to refined fuel and fresh produce. It is a major infrastructure hub integrating the region to global trade, especially to Central and Latin America. This prosperity is reflected in the region. The port is now being deepened and expanded to receive fully loaded super post Panamax vessels, and to process more cargo, more fuel, more cruise ship passengers, and bigger conventions (Port Everglades 2018).
Being a former mangrove covered wetland, tamed and groomed to house millions of people and facilitate skyscrapers and golf lawns, the region is increasingly affected by sea level rise. Endemic tropical storms and hurricanes are now accompanied by intense king tides and blue-sky floods. Locals rely on climate resilience actions to maintain the region's prosperity. Waterfront homeowners and hotel operators expect measures to mitigate the effect of rising sea levels, protecting property value and keeping the insurance cost at bay.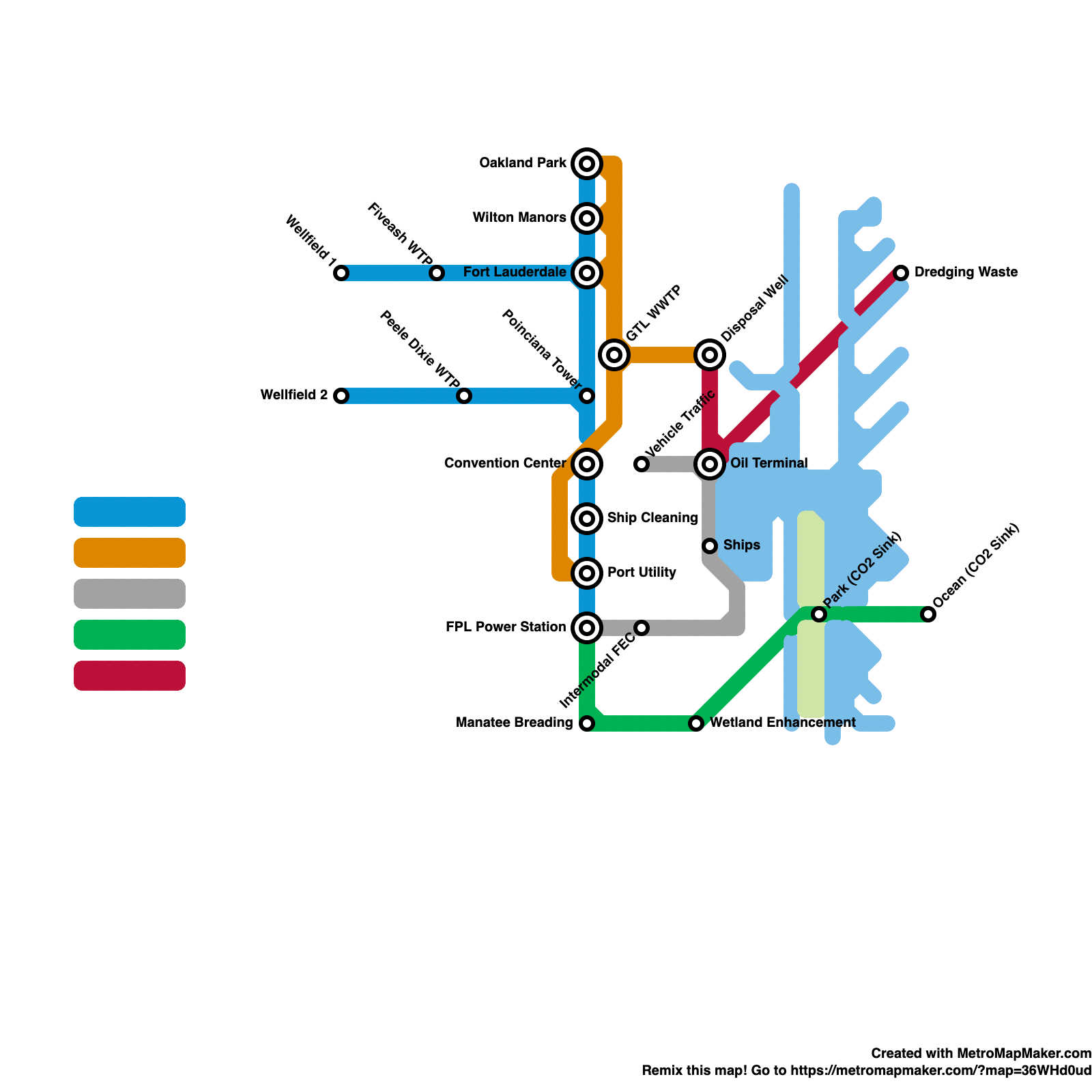 Water management professionals evaluate the necessary infrastructure upgrades to assure urban drainage, maintain water availability, reduce saltwater intrusion, and assure water quality. Nevertheless, infrastructure is often at its limit when population growth, economic development, and  increased urbanization have to be balanced with the freshwater quality and availability of the shallow and highly permeable Biscayne aquifer. Broad highways, large parking lots, groomed yards and high risers compete for space with nature parks and bioretention areas to control the effects of weather and water.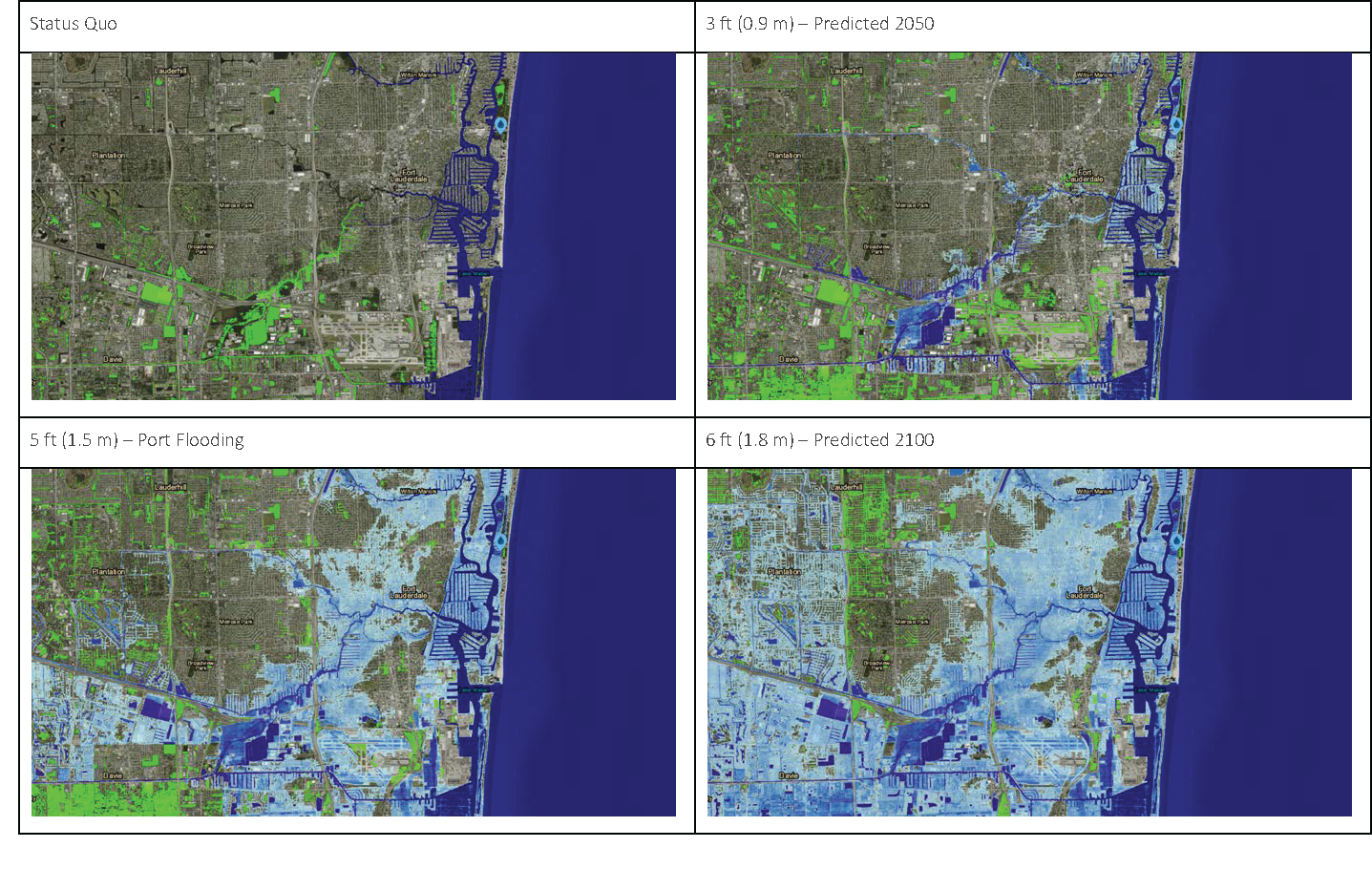 Since the mid 20th century, when the existing drainage and flood control structures were built, the average sea level rose about 13 centimeters, limiting the performance of these structures. Another 15 centimeters rise in sea level would hinder drainage capacity even further (Evers & Hartman 2014). On a positive note, it is no longer an argument if the sea level is rising; the discussion has pivoted to what can be done (Gonzalez Touzet 2020). While it is clear that action towards climate resilience is urgent, financing of the necessary measure's presents its challenges. Private funds can impact climate action locally. The port contributed by initiating an emission inventory  and preserving and expanding mangrove habitats (AAPA 2020). Larger infrastructure measures however, such as renovating the drainage system, require tax dollar investment on local, state, and federal levels. But to do so, the focus on business friendliness and the subsequent lack of state tax revenue should be reconsidered.
The adaptation to climate resilience requires an alignment between multiple parties. Businesses, government, and citizens all value safety, sustainability, and accountability. How to translate those values into action is the new challenge. Creative business models that inspire people to invest, as well as "carrot and stick" incentives and gradually stricter regulations, could result in a virtuous cycle, adding sustainable value to the economy, society, and environment. 
Port Everglades is the fuel port of South Florida and commercial door to supply a wealthy region that  receives millions of tourists every year and is home to a rising population. Climate change, especially  sea-level rise, already affects the everyday life of businesses and the local population, exposing the limits of the existing infrastructure. Historically, South Florida had to adapt its habits to  manage growth within its environment, be it through improved drainage management after droughts in  the Everglades or new building codes after a destructive hurricane. There is consciousness of the cost of inaction and the benefits of action. Adapting once again, aligning values and interests to develop a climate resilient region is the necessary next step.  
 
Acknowledgement
The free online course (Re)Imagining Port Cities: Understanding Space, Society and Culture, runs on the EdX platform. The blog was reviewed and edited by Carola Hein and Hilde Sennema.
 
References
AAPA – American Association of Port Authorities (2020) Nomination of Port Everglades  Comprehensive Environmental Management Program In: 2020 Environmental Improvement  Awards - Comprehensive Environmental Management. (Available at: https://www.aapa ports.org/files/AwardsCompetitionMaterials/2020ENVandITAwards/Port_Everglades_Compreh ensive_Environmental_Management_Program.pdf Accessed on 7/3/21) 
Alvarez, L. & Santora, M. (2017) After Andrew, Florida Changed Its Approach to Hurricanes,  New York Times (Available on: https://www.nytimes.com/2017/09/06/us/hurricane-andrew miami.html Accessed on 7/3/21) 
Andersen, K. (2000) Port Everglades – A Century of Opportunity (Chronological Digest of  Outstanding Growth). Port Everglades Department of Broward County
Edwards, A. & Hartman, M. B. (2014) Risk, Resilience and Sustainability: A Case Study of Fort  Lauderdale. Prepared by: The Center for Environmental Studies, Florida Atlantic University In:  InTeGrate Workshop titled: Teaching about Risk and Resilience: Sea Level Rise, Flooding, and  Earthquakes. 
Gonzalez Touzet, J. (2020) Business Case for Resilience: What Does this Mean for Our Region.  In: Virtual Climate Leadership Summit, Southeast Florida Regional Compact. (Available on:  https://www.youtube.com/watch?v=mDrQXi8Z87Y Accessed on 07/01/2021) 
McPherson, B. F., Hendrix, G. Y., Klein, H., Tyus, H. M. (1976) The Environment of South  Florida – A Summary Report. Geological Survey Professional Paper 1011, US Department of the Interior.
Port Everglades (2018) Navigating the Future: Port Everglades 20-Year Master/Vision Plan Available for download at: https://www.porteverglades.net/construction/master-vision-plan/ 
Turnbell, M. (2006) The Settlers before Major Lauderdale. https://www.sun-sentinel.com/news/fl-xpm-2006-06-18-0606170148-story.html Accessed on 09/16/21
Unknown (1788) New River Map of Frankee Lewis Plantation – 1788. Retrieved in 2017  (Available on: https://christinapettersson.com/artwork/4303208-New-River-Map-of-Frankee Lewis-Plantation-1788.html Accessed on 07/01/2021)
Images used in the timeline: 
Images:
Mable Lake, Inauguration, Fuel for SoFlo & SS Leo da Vinci (from Andersen, K. (2000) Port Everglades - A Century of Opportunity (Chronological Digest of Outstanding Growth, commissioned by Port Everglades Dept. of Broward County
Cuba: Advertisement on vacations in Cuba from Massaguer, Foto: Lynton Gardiner/ Courtesy from Wolfsonian Museum (https://oncubanews.com/cultura/artes-visuales/la-cuba-de-massaguer-se-expone-en-miami/)
Super Panamax Cranes - Port Everglades 5 year plan brochure.
Maps:
1) Asher & Adams (1874) Florida Atlas Map Scale 1 1,267,200
2-4) Downloaded for free from USGS (United States Geological Survey)
5) Coral Reefs: Walker et al. (2012) Dredging and shipping impacts on southeast Florida coral reefs. in Proceedings of the 12th International Coral Reef Symposium, Australia.
6) Port Everglades website (https://porteverglades.org/port-everglade-facilities-map.htm)