Carlien Donkor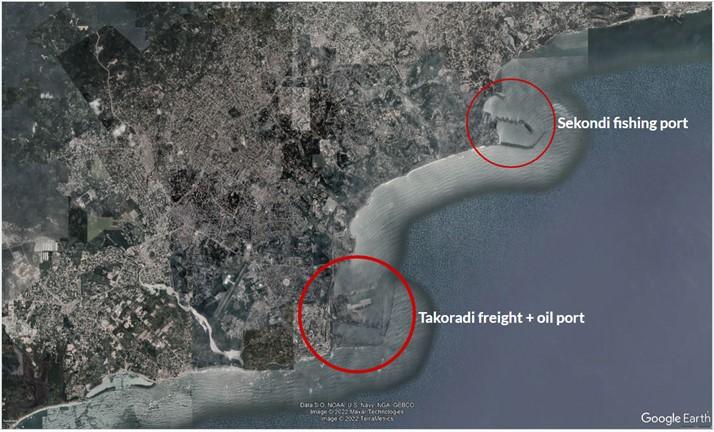 While it is a common notion that infrastructural projects can facilitate socio-economic development of communities, an important question to ask before making this assumption is: what factors actually drive such projects? Sekondi-Takoradi, located in the Western region of Ghana, was planned as a coastal twin city to suit trading needs in the colonial era (Intsiful, 2017). Taken together, it is the third largest city in the country, yet interestingly, the everyday Ghanaian considers them as very different cities. Over time, both cities have indeed followed different paths: economic potential in Sekondi receded due to the strategic location, military significance, port modernisation  and the 2007 discovery of oil just off-shore from Takoradi (Chalfin, 2018). Since then, the latter has been a new hotspot for foreign presence once again, as a sort of neo-colonisation (Obeng-Odoom, 2014). Sekondi remains in the background of this narrative, thereby further putting into question the introductory notion of infrastructural development, which has led to the disjointed growth of these twin settlements, argues researcher Carlien Donkor.
The old Sekondi used to be divided into two sections: Dutch Sekondi, also known as 'European Town', and British Sekondi (Intsiful, 2017). In the colonial era, a lot of foreign merchants first settled here, which explains the presence of villas and stores that today are either demolished or in poor condition (Jackson, 2018). The concurrent boom in economic activity gave rise to the establishment of civic buildings, such as the oldest post office in Ghana, a naval base and the Sekondi Central Prison. The city was popular with musicians, as evident in the country's 'highlife' music genre (Intsiful, 2017), and its beaches provided a good spot for surfing. Today, surfing and fishing do not seem to be a strong enough incentive anymore for people to stay or move to Sekondi, especially since the discovery of oil just off the coast from Takoradi. The petroleum industry has offered a clear job market with higher salaries, causing a major part of townspeople to leave for Takoradi. Even though some natives of Sekondi also leave for their higher education, it is undeniable that the recent operations of oil companies have greatly accounted for the observed exodus in Sekondi and the accompanying exponential rate of population growth in Takoradi over the past decades.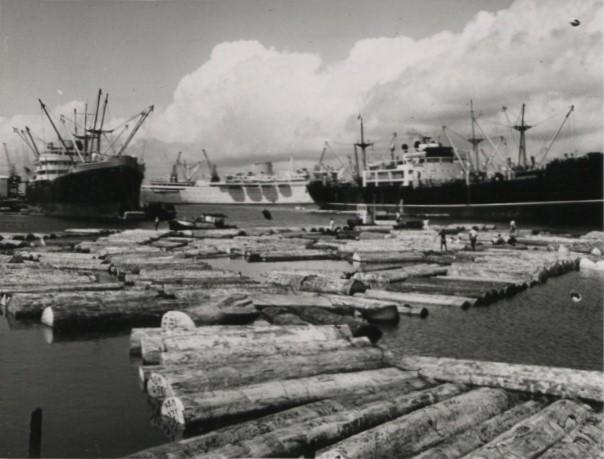 The Takoradi town was originally a result of the creation of the first commercial port in Ghana under the British colonial administration, and one of the many rapid infrastructural development projects realised around the country at the time. The freight port, created in 1928, facilitated a very cost-effective international trade route with Europe and America and even to landlocked West Africa. To complement this, the Market circle, which is the central market located at the city's major roundabout, was opened that same year. The Takoradi harbour has particularly been known for the export of timber, cocoa, bauxite, manganese and equipment for the mining, oil and gas industry, among others. In 2021, the port was handling 25% of Ghana's maritime traffic, 61% of Ghana's seaborne exports and 18% of Ghana's seaborne imports (GPHA, n.d.). Other facilities that can be read as signs of (urban) development were the establishment of the Takoradi Technical University (previously Takoradi Polytechnic) in 1954, the conversion of the air base into a domestic passenger airport that is now the fourth busiest in Ghana and, most recently, the opening of the Takoradi mall in 2018.
Today, Takoradi is known as the 'Oil City,' as the 'black gold' has given this territory its new identity through the rush investments of international oil companies and accompanying economic prospects. Even people from Sekondi who want to travel to Ghana's capital city Accra need to first go back to Takoradi, in order to get a bus or flight to Accra. The nearby mining community of Tarkwa, which became unsafe for living over time, has also brought a substantial number of people into Takoradi as the nearest 'developed' city.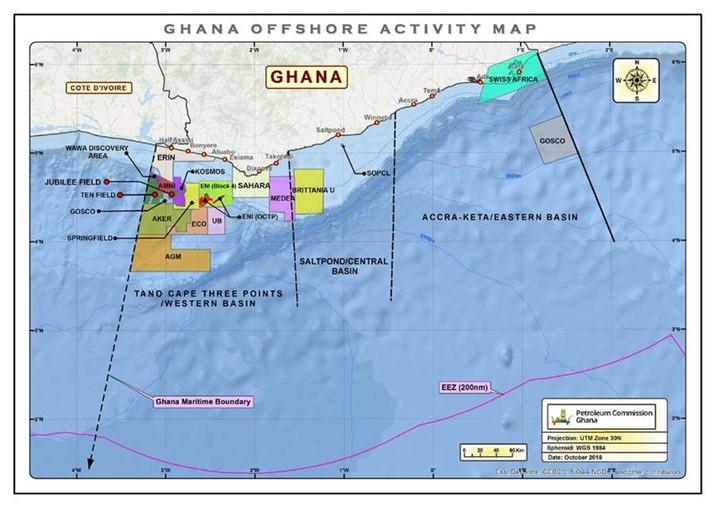 Evidence of this new 'oil' presence is seen in the conversion of old factories, such as that of the Pioneer Tobacco Company, and residences into offices for predominantly international oil companies, some of which are the top stakeholders of the port (Intsiful, 2017). The consequent 'foreign' presence is also evident in the number of hotels that have sprung up in Takoradi, and the port has seen its fair share of dredging activities for port extension (Jan De Nul Group, n.d.). The city is experiencing further major infrastructural changes, such as the renovation of the Takoradi Market circle in the city centre and the construction of a new highway to ease traffic.
In Sekondi, on the other hand, various old colonial buildings have been demolished and replaced with new functions (Jackson, 2018). A former classmate who had spent most of his life living between the two cities shared his perspective on the ripple effects of these structural settlement changes: for him, Sekondi was now a 'ghost town' where people would only go for fresh and cheaper fish, while Takoradi was where everyone was or wanted to be.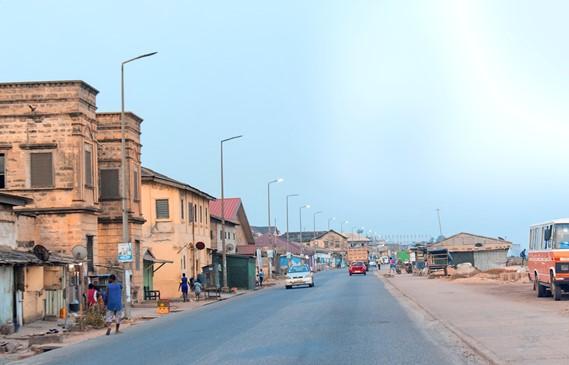 The ongoing expansion of the Takoradi harbour and the consequent development of the city will surely create new opportunities and challenges, for which a variety of spaces will need to be occupied. It can be assumed that negative impacts on Sekondi will persist as well. A failed attempt to bring life back to the 'fun' twin Sekondi was the stadium in Essipong, which has been neglected since its opening in 2008. Or was this perhaps simply bad timing that doomed Sekondi: a year after Takoradi's oil discovery?
It does beg the question: how can the port city of Takoradi revive its lost twin Sekondi to make it an 'attractive' city once again? Since Sekondi was historically also known as a railroad city, it could be beneficial to explore a reinvention of this historic character that further builds on the reopening of its railways in 2016. Other possibilities could be to start a heritage assessment and restoration process, for the proper inventory and documentation of the historic buildings in Sekondi that now mostly appear to be in ruins. This should be done in consultation with the families that own these places and include their oral history accounts, in order to encourage the practice of a proper maintenance culture. The recently established 'Twin-Cities in Sustainable Partnership Project' (2021) could make a substantial impact on the restoration of Sekondi as well, at least if its objectives are directed fairly between both settlements and not merely focused on Takoradi.

Ultimately, it still leaves one wondering: could the current development of Takoradi at the expense of Sekondi have been avoided altogether?
Acknowledgement
Carlien Donkor is a researcher at Delft University of Technology, focusing on integrated urban water design and how factors including climate change and rapid urbanisation pose a risk to the design and planning of historic rural and urban water c(ommun)ities, from Nzulezo to Milan. The author would like to thank Sabine Luning, Nana Yaw Boakye and Stephen Annak for their valuable insights in clarifying the text.
This blog has been written in the context of discussions in the LDE PortCityFutures research community. It reflects the evolving thoughts of the author and expresses the discussions between researchers on the socio-economic, spatial and cultural questions surrounding port city relationships. This blog was edited by the PortCityFutures editorial team: Vincent Baptist.
References
Chalfin, B. (2018). "On-Shore, Off-Shore Takoradi: Terraqueous Urbanism, Logistics, and Oil Governance in Ghana." Environment and Planning D: Society and Space 37(5), 814-32. https://doi.org/10.1177/0263775818800720.
(Ghana Ports and Harbours Authority) (n.d.). "Welcome to Port of Takoradi." Accessed on 16 May 2023.  https://www.ghanaports.gov.gh/page/index/15/EXKGB1KA/Welcome-Message.
Intsiful, George W.K. (2017). "Revitalising Sekondi-Takoradi." Graphic Online, 12 January 2017. https://www.graphic.com.gh/features/opinion/revitalising-sekondi-takoradi.html.
Jackson, I. (2018). "Update from Ghana: Lasdun in Accra and the Venice Cinema in Sekondi…" Transnational Architecture Group, 18 June 2018. https://transnationalarchitecture.group/2018/06/18/update-from-ghana-lasdun-in-accra-and-the-venice-cinema-in-sekondi/.
Jan De Nul Group (n.d.). "Port Of Takoradi, Ghana." Accessed on 20 May 2023. https://www.jandenul.com/projects/port-takoradi-ghana.
Obeng-Odoom, F. (2014). Oiling the Urban Economy: Land, Labour, Capital, and the State in Sekondi-Takoradi, Ghana. Routledge.
Twin-Cities in Sustainable Partnership Project (2021). Launch of Twin-Cities in Sustainable Partnership Project. https://www.stma.gov.gh/EU/documents/TCSPP-BROCHURE.pdf.