Martine van Lier
Maritime heritage is part of our oldest heritage. It is a reflection of historic innovation and has been key to the growth of port cities around the world. Maritime heritage can therefore help inspire solutions for current and urgent challenges. In this blog post, heritage consultant Martine van Lier argues that historic vessels, ports, waterways and harbor buildings are not only culturally, historically and environmentally valuable; they can also be the motor of sustainable spatial and economic development. 
Maritime heritage is one of the oldest kinds of heritage, and yet still a 'new kid on the block' in the heritage sector. Whether it is a five-thousand-year-old dugout canoe, a nineteenth century botter(wooden sailing fishing vessel) or a beurtvaarder(freight and passenger vessel sailing certain time-planned routes), maritime heritage has provided inspiration on how to deal with our landscape and nature for five millennia. It provides lessons on adaptation and offers inspiration for new approaches in times of climate change. We can learn a lot from the centuries-old experience of maritime heritage within port cities, wet delta landscapes and the capricious sea climate, in order to address contemporary challenges of sustainability and climate adaptation.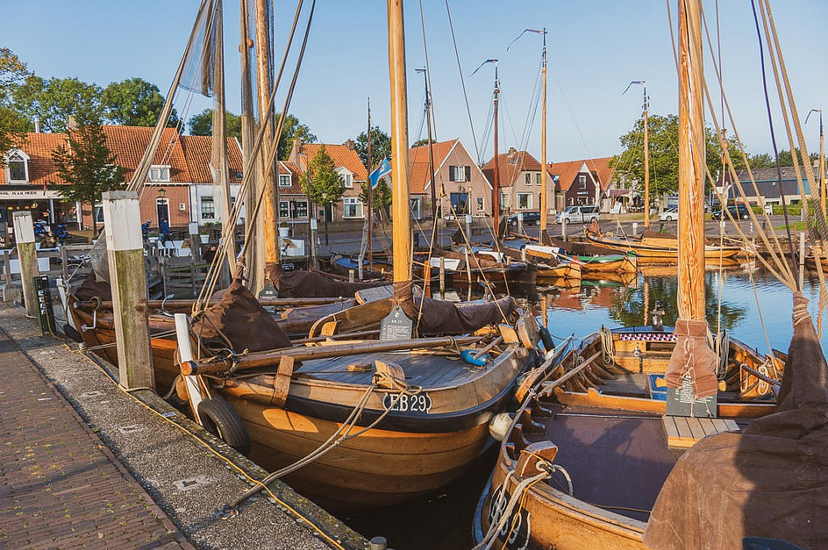 Botters in the Elburg harbor – photo by author
(https://botterselburg.nl/pagina/11/museum-en-werf/)
Layered meanings of maritime heritage
The Netherlands have long been known as a country of trade and transport, but eminently also as a maritime country, lying in a delta of big rivers and next to the North Sea. Historically, shipping was one of the most important boosters for spatial developments and prosperity. Villages and cities have grown and bloomed because of their location along waterways. Ports, shipping canals and towing canals composed a waterway network that is still of economic importance. The unique historic ships of the Brown Fleet (traditional sailing vessels used for passengers and groups) and museum harbors for instance contribute to the spatial quality of the Dutch cultural landscape, and sustain the maritime character of harbor villages and port cities. 
Provinces and municipalities can utilize their rich maritime heritage, and the layered meanings of historic ships and maritime artifacts for developing their environmental visions and spatial plans. Through provincial or municipal regulations, municipalities can bind and secure their sailing monuments and maritime ensembles. The conservation of maritime heritage is important from a spatial, cultural and historical point of view. It can also contribute to addressing current challenges concerning mobility, leisure, energy and the climate. Let's highlight a few examples: 
Flywheel for urban and economic development: Maritime heritage as local center 
The village of Elburg, for example, pursues sustainable urban growth by using the maritime ensemble of the harbor - consisting of botters, harbor buildings and the botter-wharf - as part of its municipal policy. The municipality of Elburg has pointed out historic vessels as municipal sailing monuments, and both the municipality and the province support the botters and the botter-wharf financially. In this way, this maritime ensemble can serve as a flywheel for the urban and economic development of the local harbor area, and the touristic attractiveness of this old fishing village. 
Modeling sustainability: Water replacing gas
Living on the water without using gas is possible in houseboats, but also in historic vessels. By using water, air and sun as main energy sources, boats and vessels can be heated in winter and cooled in summer. This system requires a combination of a water-water-heat-pump and thermal solar panels. The solar panels supply electricity, while the thermal tubes underneath supply hot water and the water-water-heat-pump keeps the vessel at the desired temperature. Provided that the isolation is sufficient, you can live on a boat without gas, wood or gasoline, and still keep sailing. The investment is still rather expensive, however. Collective acquisition can be a solution, for instance for residential collectives like museum harbors. By making vessels and houseboats more sustainable, they even point the way to the development of climate adaptive floating villages, which offer future possibilities to live on water in delta landscapes.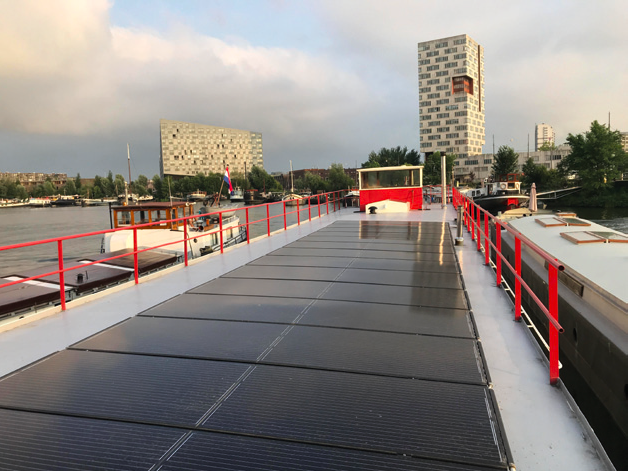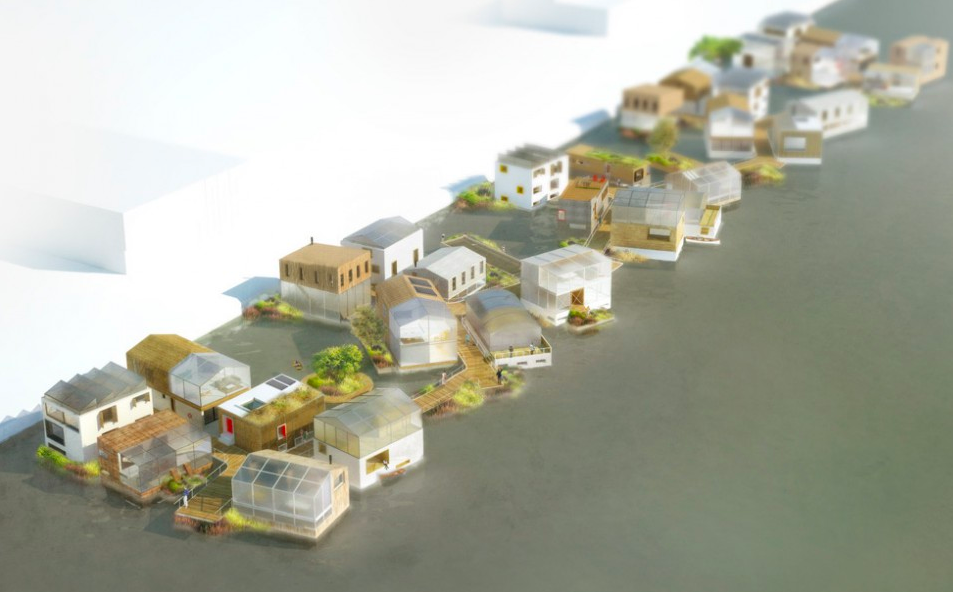 Solar panels on houseboat - VLOT Magazine Floating village project 'Schoonschip' in Amsterdam
(https://www.vlotwaterwonen.nl/)
(https://schoonschipamsterdam.org/#site_header)
Lifestyle changes: Slow tourism   
Towing canals formed a popular public transport system during the Golden Age in Holland. For over 250 years, towing vessels were a reliable and comfortable means of transport for longer distances. Along the canals were towpaths, where horses would walk while towing the vessels. The increase of railways and trains marked the end of the towing system. 
Recently, a few shipping companies have embraced the Cittaslow-movement ('slow city'), an international quality mark for municipalities that are respectfully committed to their landscape, regional products, hospitality, environment and heritage. According to this ambition, slow tourism is emerging as a sustainable way of recreation in more regions and countries. Shipping companies have succeeded in encouraging the interest in using the old towing canals again: The canals are made accessible again, towing vessels are restored or newly built, and horses are trained. Sailing with towing vessels gives passengers the chance to experience the landscape in a calm and intense manner. In this way, sustainable recreation contributes to a heritage-inclusive development of local rural areas.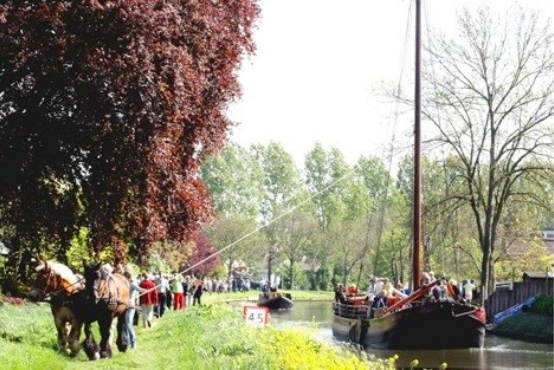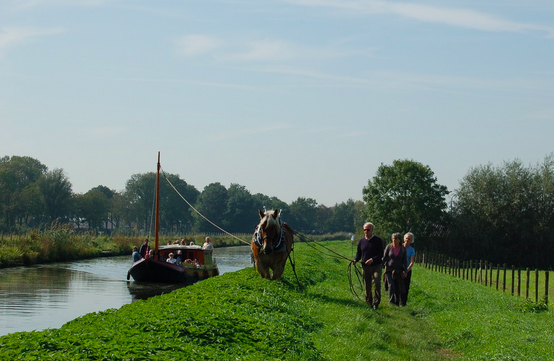 Towing vessels with horses on river IJssel - Reederij de IJsel in Oudewater
(https://www.reederijdeijsel.nl/)
Circular Economy: The Beurtvaart rediscovered     
Shortly, the 'Zeeuwse Groene Compagnie' ('Zeelandic Green Company') initiative will start sailing, as two ship owners have again equipped their historic sailing vessels for freight and passengers. Inspired by the old system of the beurtvaart, for freight and passenger transport to sail along a certain route according to a scheduled timetable, they developed an innovative concept: to transport regional products as well as passengers on fixed routes. The sailing vessels will use the wind as often as possible, but for maneuvering, they install an electric motor with a salt battery as energy source. In the harbors on their planned routes, solar panels are placed on the roof of harbor buildings, supplying electric energy to charging stations for the salt batteries. This initiative stimulates spatial development in historic harbor villages and port cities, by providing them with a new sustainable function, namely the transshipment of regional products. Ultimately, this reinforces the local economy and counters the shrinking of rural communities.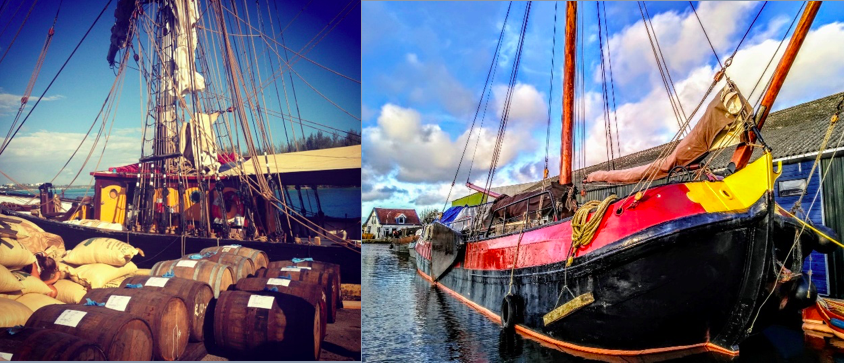 Tres Hombres                                                     Zeeuwse Groene Compagnie
(https://www.vrijbuiterzeilen.nl/over-vrijbuiter/vrienden-van-vrijbuiter/) (https://erfgoedkwartiermakers.nl/nieuws/news.cfm?seoTitle=zeeuwse-groene-compagnie-combineert-vrachtdienst-met-ecotoerisme)
Clean Shipping: Wind in the sails at sea  
Three young captains got so inspired by the wish to find alternative means of transport for merchant shipping at sea, that they started the clean transport movement (Fairtransport) in 2007. To prove that this goal is feasible, they bought an old cargo vessel, took out the engine, put her under sails and started with climate-friendly cargo shipping. Today, this vessel, the Tres Hombres, has several sister ships worldwide, forming a growing movement of cargo ships powered by wind. Based on historical knowledge of sailing, they inspire the modern seafaring industry to use wind power, and to diminish the enormous greenhouse gas emissions of seafaring engines that use fossil fuels. The first contracts to convert or build seagoing ships with sails in this way have recently been signed. This promising trend can help to diminish air pollution in port cities, and make housing facilities and moorings for cruise ships more feasible.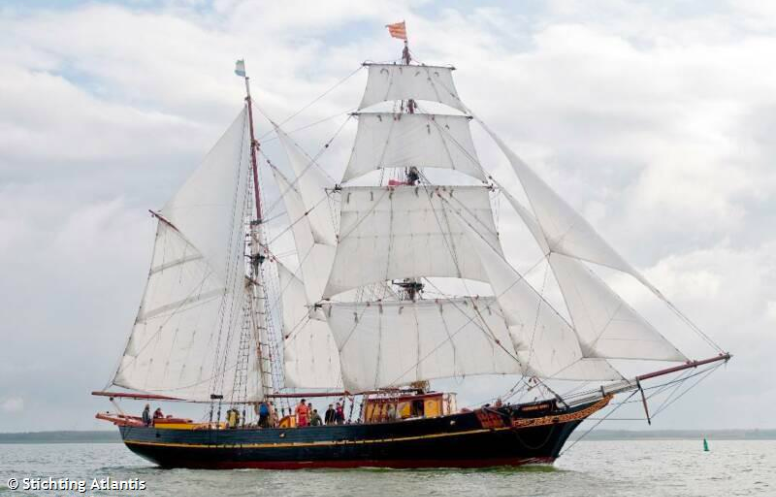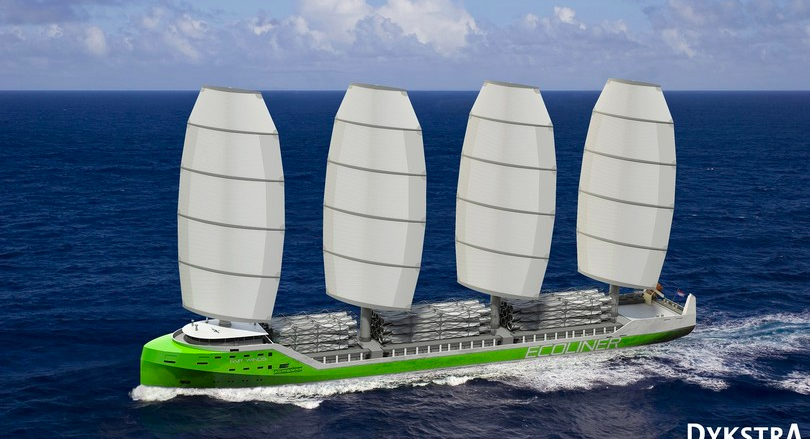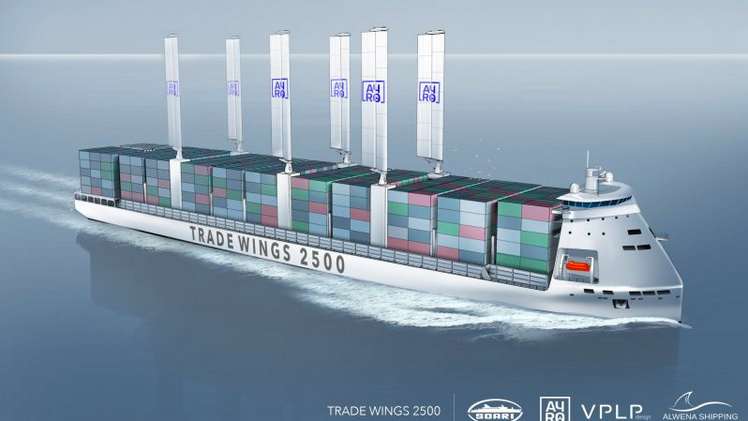 Tres                                        Hombres Ecoliner                         Trade Wings 2500
(https://fairtransport.eu/nl/tres-hombres/)
(https://www.duurzaamplus.nl/mobiliteit/ecoliner-emissiearme-zeetransport/)
(https://www.vplp.fr/en/shipping/trade-wings-2500/)
Maritime knowledge and craft as motors of sustainable development
The varied examples above show us how maritime heritage sources can be used for the crucial transitions we face these days. Among others, they demonstrate how historic ships can serve sustainable tourism, circular economy practices, green shipping, and sustainable living on board and on water. As stated before, shipping and port cities have long been important agents of innovation, and their historic practices can provide inspiration for green futures. Therefore, it is important to preserve historic ships in their maritime context, and not let maritime knowledge and craft go to waste. Let's be receptive to the innovative power of maritime heritage.   
Acknowledgements
Martine van Lier is heritage consultant at ErfgoedWerf and Erfgoedkwartiermakers Coöperatie.
This blog was peer-reviewed by the PortCityFutures editorial team: Carola Hein, Hilde Sennema and Vincent Baptist.